Share
Share on Facebook
Share on facebook
Tweet on Twitter
Share on twitter
Pin on Pinterest
Share on pinterest


Translation missing: en.general.social.alt_text.print
Print


Translation missing: en.general.social.alt_text.email
Send email
Halloween can be a scary time for parents of kids with food allergies. Whether you're celebrating at home this year or enjoying a socially distanced trick-or-treat, we've got activities and recipes to keep your favorite ghouls & goblins engaged & happy. Plus, read on for tips to make this holiday a safer experience for everyone!
Jump Ahead To:
Halloween Activities
Coloring Sheets: Meet Our Friendly Monsters
Say hello to four new friends: Syd, Sam, Beatrice, and Pete! These friendly Halloween creatures live on the packaging of our chocolate candies. We've made four printable coloring sheets so children of all ages can bring them to life during craft time at your kitchen table. Match the colors on our packaging or decorate each creature with a unique and wonderful color palette. And if you do have our chocolate candies handy, you can easily paste more creatures into the scene by cutting out each character from the outer package. Just follow the dashed cut-out line that comes printed on every outer package of Halloween Mini Chocolates.
Create an At-Home Hunt
Will poor weather keep you indoors? With just a bit of creativity and a handy helper at your side, you can quickly transform the familiar confines of your home into a magical Halloween escape! Spread out decorative spider silk and other creative touches, then try dimming the lights (or swap in a colorful lightbulb!) and tune into a spooky soundtrack. Secretly hide individual Halloween treats amongst the decorations or in unexpected places around your home. Finally, grab a flashlight and announce the At Home Halloween Hunt begins as soon as all the ghouls and goblins are dressed in their frightful best!
Stack a Halloween Snack Board
Watch below – This year we teamed up with Kitchen Confidante® Liren Baker to explore fun and festive ways to brighten up your Halloween adventures with a seasonal presentation of natural snacks and special occasion treats. No Halloween celebration would be complete without a colorful snack board!
 

View this post on Instagram

 
Tips for Safer Trick-or-Treating
Don't eat snacks until you get home. Better safe than sorry!
Always read ingredients. Look for allergens and statements that are most important to you.
Look for brands you trust. Did you know that all Enjoy Life products have the same brand promise? When you see the red oval you know it's a trust mark and your snack is certified gluten-free and free-from 14 common allergens.
Opt for non-food items. Halloween party stores have lots of fun non-food items to get you in the Halloween spirit.
Spot a teal pumpkin. These pumpkins indicate that there are non-food treats or allergy-friendly snack items for trick or treaters—thanks to FARE and the Teal Pumpkin Project for leading this valiant effort.
Allergy Friendly Mini Chocolate Candies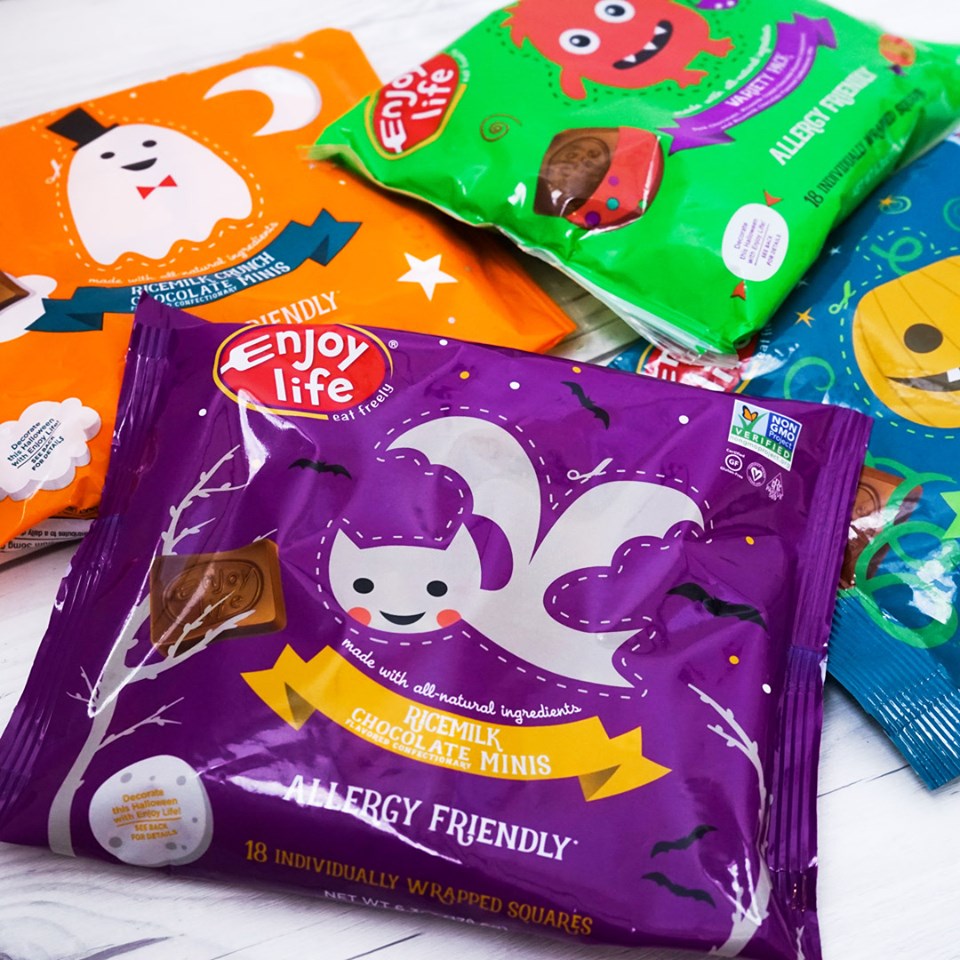 Each year we bring allergy friendly Enjoy Life Halloween Chocolate Minis to stores and online retailers across the USA and Canada. They're back this year – here to help all your ghosts and goblins have the best Halloween ever! Available in Ricemilk, Ricemilk Crunch, Dark Chocolate and a Variety Pack, our candies make for the perfect Halloween treat! They are dairy-free, soy-free and nut-free, as well as free from gluten and 14 allergens in total. The Ricemilk and Dark Chocolate Halloween Minis are also vegan! Each individually wrapped chocolate has a Halloween design on the inside package.
Where can I find Enjoy Life Halloween Minis?
Head to our store locator to find local retailers near you that carry Halloween Chocolate Minis. You can also order our seasonal candies through popular online retailers such as Thrive Market, Vitacost, Amazon.com, and our own website.
Halloween Recipes