Share
Share on Facebook
Share on facebook
Tweet on Twitter
Share on twitter
Pin on Pinterest
Share on pinterest


Translation missing: en.general.social.alt_text.print
Print


Translation missing: en.general.social.alt_text.email
Send email
Sweeten up your cookie exchange this holiday season with our favorite cookie recipes, snack hacks and more. Love to bake? We've got some great recipes for you. Prefer pre-made desserts? Our Crunchy and Soft Baked Cookies are just what you need! Here's a quick run-down of our favorite holiday cookie hacks:
Cookie Platters
Whether you're making your own cookies, or buying them from the store, the easiest way to spice up your holiday cookie spread is the presentation. Put out your cookies on a fancy holiday platter and organize them any way you want – by flavor, by size, or by mixing it up and creating your own cookie platter work of art. Depending on the occasion, use your discretion when it comes to the allergens in the group. If there will be top allergens present in the other desserts at the gathering, keep the allergy-friendly cookies on a separate covered platter and make sure to keep them away from the other items to prevent cross-contact.
Delicious Recipes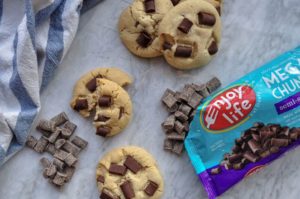 The go-to favorite: Chocolate Chip Cookies
Perfect the chocolate chip cookie, no matter how you like them! Thick and chewy? Thin and crunchy? Soft and cakey? We've got the tips to help you create the perfect gluten-free chocolate chip cookie for everyone!
All the favorite flavors of holiday baking wrapped up into one poppable dessert! Mix your favorite Crunchy Cookies (we love using our Vanilla Honey Graham cookies) with sunflower seed butter and coat in chocolate for a delicious and easy no-bake treat.
Turn your favorite cold weather drink into a delicious, comforting cookie! Warm marshmallows sandwiched between two of our Double Chocolate Brownie Cookies and dipped in our vegan chocolate chips– what could be better?
Easy Cookie Hacks
When in doubt, add dairy-free chocolate! Dipping your cookies in chocolate adds a whole new level of flavor to your favorite holiday classics. Dip our Crunchy or Soft Baked Cookies in chocolate,  like we did with these Minty Sugar Crisps, or try our Chocolate-Dipped Buckwheat Cookies recipe!
Cookie Bark
One of our favorite treats to make with our products is loaded chocolate bark, and our cookies are the perfect addition for some extra crunch! Simply crush up your favorite cookies, add any other yummy mix-ins, mix with our melted dairy-free chocolate chips, spread onto a cookie sheet and let cool. Quick, easy and delicious! Some of our favorite versions of this are our Mint Crunch Cookie Bark, and our Super Simple Loaded Bark. For some extra fun, use holiday cookie cutters to create festive shapes!
Cookie Pie Crust
A tried and true holiday tradition for us – use your favorite Soft Baked or Crunchy Cookies as the base for your holiday pie crust! Our favorites are Snickerdoodle, Double Chocolate and Vanilla Honey Graham!