Share
Share on Facebook
Share on facebook
Tweet on Twitter
Share on twitter
Pin on Pinterest
Share on pinterest


Translation missing: en.general.social.alt_text.print
Print


Translation missing: en.general.social.alt_text.email
Send email
When you think about Valentine's Day treats, what's the first thing that comes to mind? For us, it's chocolate! Baking chocolate is our favorite ingredient all year and it's definitely the star of the show. Whether we're melting it for a chocolate-y fondue, making homemade chocolate treats, or baking up a storm, our dairy-free baking chocolate is a must-have ingredient. Here's what you need to know to make this year's Valentine's Day dessert table the best yet!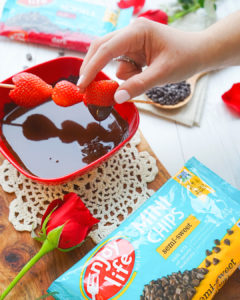 Melt It
What's better than Valentine's Day treats? Valentine's Day treats covered in dairy-free chocolate, of course! Our recipe for dairy-free fondue is the perfect addition to your dessert spread for the month of chocolate! Dip your favorite fruit, gluten-free cookies and snack bars in chocolate for a decadent holiday treat. And if you want to use our chocolate for a decadent heart-shaped bark, or as a coating for truffles and cookies, our melting instructions are just what you need!
Our favorite holiday treats wouldn't be our favorite without some added chocolate! We have a bunch of delicious, chocolate-y desserts to choose from. Whether you prefer classic Chocolate Chip Cookies, fudgy gluten-free brownies, or decadent chocolate pie, we've got just the collection of recipes for you! If you're looking for something festive, check our our Valentine's Day Strawberry Chocolate Cups.
Share It!
What are your favorite recipes using our chocolate? Tag @enjoylifefoods on social media with the hashtag #eatfreely to show us how you're celebrating Valentine's Day with all things chocolate!