Share
Share on Facebook
Share on facebook
Tweet on Twitter
Share on twitter
Pin on Pinterest
Share on pinterest


Translation missing: en.general.social.alt_text.print
Print


Translation missing: en.general.social.alt_text.email
Send email
This year whether you sit down to a video-powered Thanksgiving, a socially-distanced Friendsgiving, or a traditional indoor family gathering – it's a good bet your celebration will be a little different. In many ways, ingredient conscious eaters and food allergic families have a leg-up on their peers: there has always been a question of whether passing a side dish around the table is a wise thing to do.
In the spirit of Thanksgiving we are again sharing our Allergy-Friendly Celebration tips and some allergy friendly recipe ideas to fuel your creativity this season.
Jump Ahead To:
New Normal New Traditions!
Feeling stuck? While others may focus on restrictions, we at Enjoy Life Foods are finding new ways to eat freely. Here are some ideas to get you started:
Connect with local friends & family for a no-contact food swap. Drop a side dish at the doorstep of your loved ones!
Connect with far-away relatives by baking, safely wrapping, and mailing a homemade bread or other hearty baked goods.
Get competitive with a long-distance recipe competition. Everyone makes the same recipe and reveals the results together on a video call. Best presentation wins!
"Zoomgiving" – Toast friends & family and share what everyone is thankful for. Then stay on camera to play a group game via video chat – like bingo, charades or Pictionary!
Allergy-Friendly Celebration Tips
Know Everyone's Dietary Restrictions
Inquire about everyone's dietary restrictions well ahead of time to ensure dishes are prepared accordingly and cross-contact is avoided. This way, everyone can eat freely!
Divvy Up the Dishes
This is the fun part! Each participant must contribute to the table with an allergy-friendly dish – either in person or from far away. Compile a list of what each person is making in a shareable document so there are no duplicates.
Care About Cross-Contact
Anyone sharing a dish should be sure to keep a clean workspace and ensure all foods are separate while preparing and presenting a dish. Once each dish is completed, download and apply our free-from recipe card labels. For more on cross-contact & cross-contamination, read our notes on avoiding cross-contact during the holidays.
Don't Forget Dessert!
Perhaps the most important – and delicious – part of the holiday. Get creative with our library of delicious recipes that are written to be free of 14 allergens. No time for baking? Enjoy Life's Soft Baked Holiday Cookies make a fun substitute – easy, delicious and nutritious!
Decorative Dietary Place Cards
If you're celebrating in person, add this item to your festive decorations. Download & set out our decorative Thanksgiving place cards. Named place cards will make it easy for everyone to honor guests dietary preferences. And recipe dish labels (see above) will make it easy for guests to identify which dishes they are able to eat.
Designate a DJ
Music makes the party – designate a DJ to prepare a shareable playlist in advance. Then synchronize your parties and press play!
Thanksgiving Recipe Ideas
See the recipe ideas below, then tap here for a seasonal recipe roundup.
A Festive Fall Snack Tray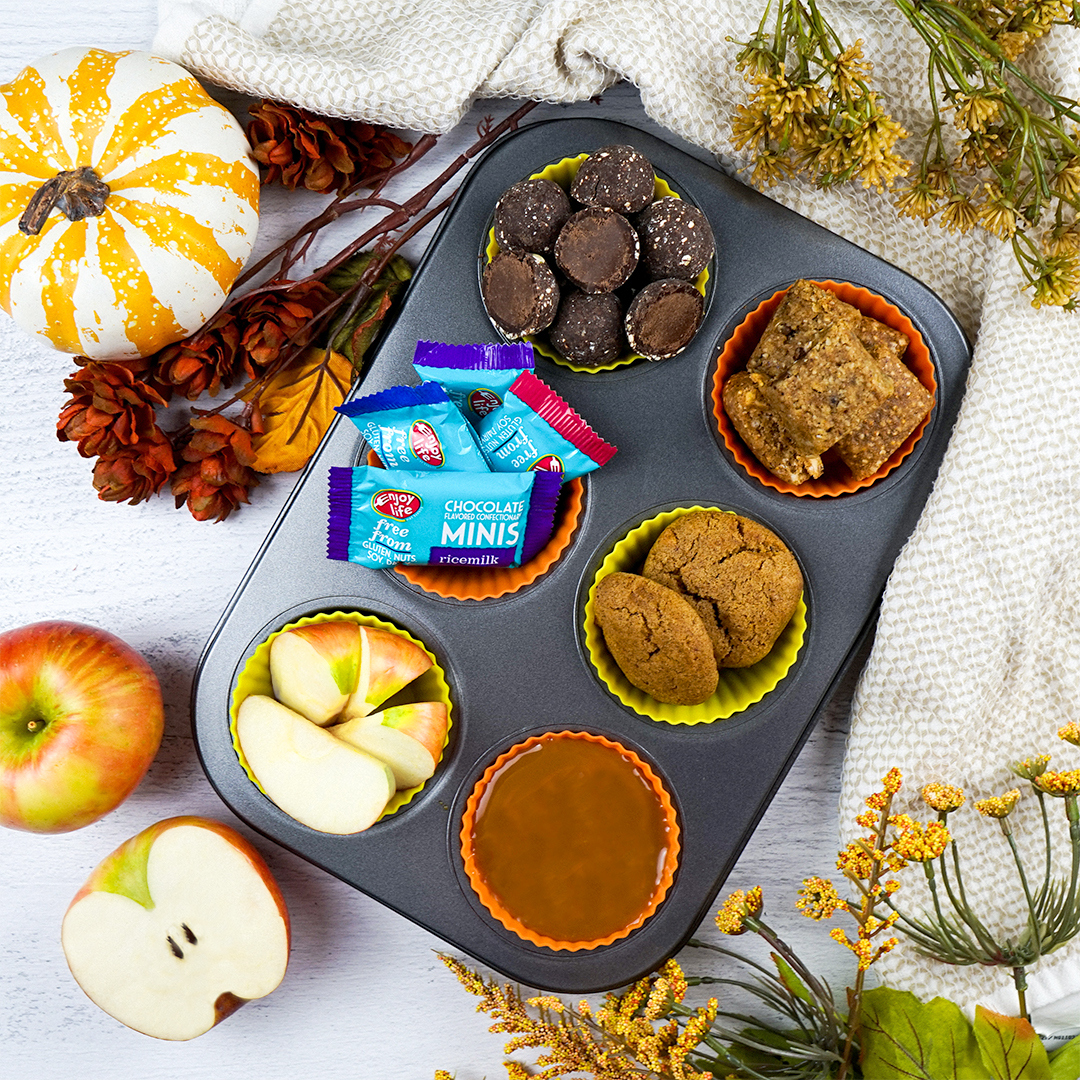 Want to feel like a festive fall celebration without spending lots of time in the kitchen? Create a flavorful snack tray from a muffin tin! Simply add your favorite caramel sauce, sliced apples, Winter Chocolate Minis, Chewy Bars, Protein Bites, and Cookies. You definitely don't want to forget our Soft Baked Apple Cider Donut Cookies! Then dip in and enjoy!