Share
Share on Facebook
Share on facebook
Tweet on Twitter
Share on twitter
Pin on Pinterest
Share on pinterest


Translation missing: en.general.social.alt_text.print
Print


Translation missing: en.general.social.alt_text.email
Send email
One of our favorite traditions here at Enjoy Life is getting together with friends, family, neighbors, and co-workers for a cookie exchange party. Whether you are simply attending a friend's cookie swap or the hostess with the mostest, we've created a simple cookie tag to make this year's exchange safe and fun for everyone.
Haven't heard of a cookie exchange party?
The way a cookie exchange party works is all the attendees brings their favorite holiday cookie for the party.  Once everyone has arrived, all the guests take turns filling their tray or box with everyone else's treats. So even though you only had to bake once, you head home with several different types of cookies to enjoy over the holidays!
Hosting a cookie swap doesn't mean another stressor on your holiday to-do list, it is simply carving out some time for you and your favorite people to slow down and celebrate during the busiest time of year.
Celebrate freely!
Those with food allergies and intolerances can participate in cookie exchanges as long as everyone clearly labels their treats. Download and print our Free From Cookie Exchange Tags to fully label your ingredients and prep.
Plan on baking treats to hand out to neighbors, teachers or holiday party hosts? Include our Free From Tags and To/From Tags so they can enjoy and share freely with all.
Link to Download To Print At Home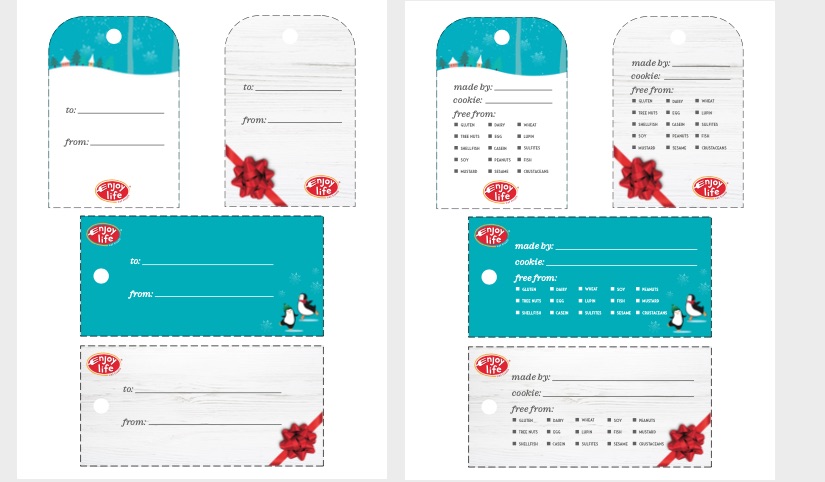 But what should I bake/bring?
Leave it to Enjoy Life to have the best free-from recipes! Check out the below list for great Holiday options. In a time crunch? Wrap up a box of our new Holiday Soft Baked Cookies and call it a day 😊
SUNSEED BUTTER BLOSSOMS
A gluten and nut-free version of a classic holiday favorite! Our Winter Chocolate Minis are the perfect topper for these Sunseed Blossoms.
Link: https://enjoylifefoods.com/blogs/content/sunseed-butter-blossoms
CHOCOLATE SEA SALT QUINOA COOKIES
What's a sweet treat packed with vegan protein, sea salt and dairy-free chocolate? These decadent gluten-free quinoa cookies!
Link: https://enjoylifefoods.com/blogs/content/chocolate-sea-salt-quinoa-cookies
HOT COCOA COOKIES
Permission to enjoy the rich, decadent taste of hot chocolate in the form of a gluten-free cookie! Once drizzled with our vegan chocolate chips, you'll never go back to hot chocolate from a mug.
Link: https://enjoylifefoods.com/blogs/content/hot-cocoa-cookies
DOUBLE PEPPERMINT BARK CHOCOLATE DIPPED SANDWICH COOKIES
Creamy dairy-free frosting brings together together two chocolatey holiday cookies, then dipped in chocolate and dusted with peppermint candy.
Link: https://enjoylifefoods.com/blogs/content/double-peppermint-bark-chocolate-dipped-sandwich-cookies
SPARKLING PEPPERMINT BARK COOKIE POPS
Watch out, cake pops! These chocolate dipped delights are just as delicious, easier to make and can be topped with any of your favorite crumbles or candy bits.
Link: https://enjoylifefoods.com/blogs/content/sparkling-peppermint-bark-cookie-pops