Share
Share on Facebook
Share on facebook
Tweet on Twitter
Share on twitter
Pin on Pinterest
Share on pinterest


Translation missing: en.general.social.alt_text.print
Print


Translation missing: en.general.social.alt_text.email
Send email
After a summer of fun, going back to school is bittersweet: sure, you get to see your friends, meet your new teachers, and learn some cool stuff, but then there's the early mornings, rushing to the school bus, and packing in a ton of to-do's in a tighter weekly schedule.
There is, however, one more bonus that Enjoy Life Foods is always here to help you with, and that's packing your snacks and lunch. While the supply for healthful treats to grab on the run is where we always have you covered (see: Chewy Bars, ProBurst Bites, and Seed & Fruit Mixes), sometimes we'd also like the opportunity to enjoy what everyone else is eating. Unfortunately, they aren't usually top-8 and gluten-free.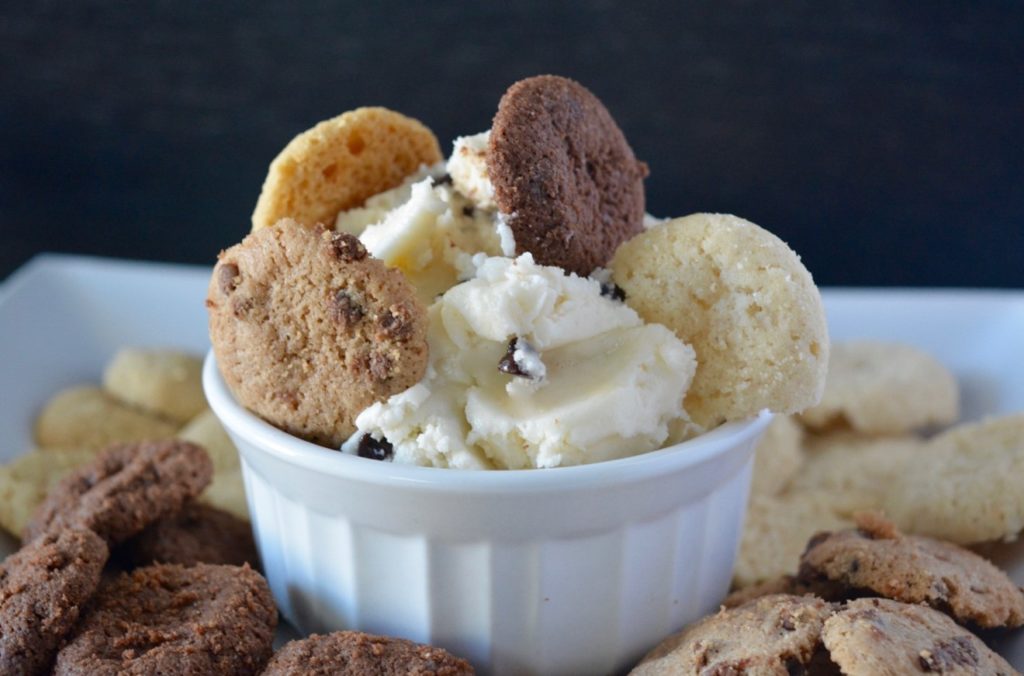 But, we're DIY-ers over here at ELF, upping the best parts of our products with a little added flair (case in point: Walking Tacos). And with our Mini Cookies as one of our fan favorites, we couldn't resist creating DIY Mini Cookie Dunkers, perfect for packing for school or, heck, let's be honest: work. Paired with Mini Crunchy Cookies, it's a frosting lover's dream: no top-8 or gluten required.
Using our Mini Chip Vanilla Buttercream Frosting (recipe below), you have an easy snack option that kids (of all ages!) will love, can be made in advance, and adds a little bit of decadence while getting back into the swing of school.
Mini Chip Vanilla Buttercream Frosting Recipe
Makes about 2 1/2 cups
INGREDIENTS:
1/2 C. dairy-free buttery spread
2 C. confectioners' sugar
1 t. vanilla extract
1 T. dairy-free milk, plus more as needed
1/3 C. Enjoy Life Foods Mini Chips
DIRECTIONS:
Add the buttery spread to the bowl of a stand mixer, beat on high speed for 1 minute, until the mixture begins to lighten.
Add 1 1/2 cups of the confectioners' sugar. Beat for 2 minutes until smooth, light, and fluffy. Add the remaining confectioners' sugar, milk, and the vanilla extract. Beat for an additional minute until smooth and creamy, adding a teaspoon of milk at a time if needed. Stir in the Mini Chips.
Spoon into a container to serve alongside the Mini Cookies for a dunkable snack.
Store leftovers in an airtight container (or individual containers) in the refrigerator for up to 1 week. Leftovers can be stored in the freezer.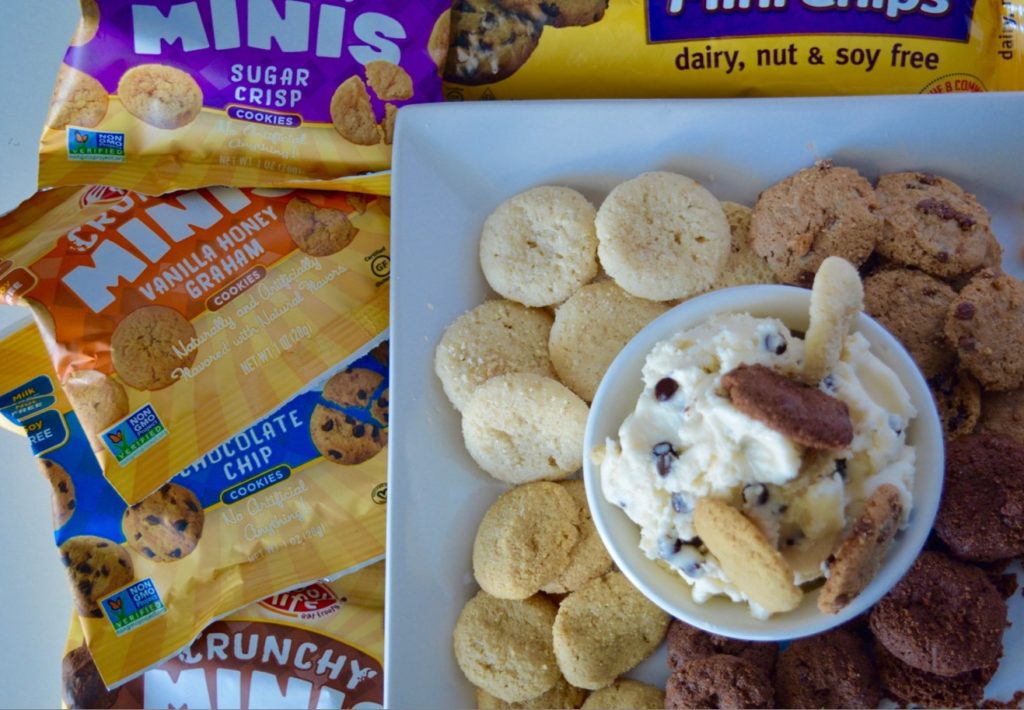 The best part? You can mix and match with different Mini Cookies varieties! Here are our favorite frosting flavor combinations for our Mini Cookie varieties:
Chocolate Chip Crunchy Mini Cookies: Make your frosting extra chocolate-y. Add 1/4 cup sifted cocoa powder to the Chocolate Chip Buttercream Frosting, using additional dairy-free milk as needed for a creamy consistency.
Double Chocolate Crunchy Mini Cookies: Think black forest cake. Stir 1/4 cup finely chopped sweet cherries into mixture, adding up to 1/4 cup additional confectioners' sugar if the cherries are very juicy.
Sugar Crisp Crunchy Mini Cookies: A funfetti-inspired dip is the answer. Add 3 tablespoons allergy-friendly rainbow sprinkles to the buttercream after beating. Omit the Mini Chips.
Vanilla Honey Graham Crunchy Mini Cookies: You can't go wrong with sunflower seed butter. Swap half of the dairy-free buttery spread for creamy sunflower seed butter, using additional dairy-free milk as needed depending on its thickness.
But, regardless of which cookie you choose – or whether you opt for a couple of each, a classic Mini Chip Vanilla Buttercream goes with every one, and will be sure to appeal to the masses, cater to the pickiest of eaters, and be the perfect companion to every school lunch.
Trust us: everyone will be begging to have a taste as soon as you unpack your bag, so our word of advice: smile, dip, eat, repeat... and—if you're feeling generous—bring along an extra one for tomorrow.
About Laurie Sadowski
Laurie Sadowski is the author of three cookbooks devoted to gluten-free, vegan, and allergy-friendly baking. Using baking chemistry as a basis, everything is developed—and guaranteed—to taste 'just like the real thing'. For more, visit lauriesadowski.com.