Adapted from www.KeeleyMcGuire.com
Taco Night is great for back to school and the leftovers are easy to repurpose for lunch the next day.
Grab & Go size bags of Plentils make for an easy walking taco or taco salad.
For the Walking Taco, pack up the leftover taco meat in a silicone muffin cup, along with non-dairy & allergy-friendly cheese shreds and romaine. If you're up for it, include a container of fresh salsa, as well. Pack grapes on the side.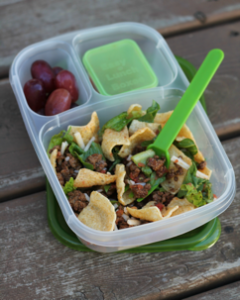 All your child has to do is open the chip bag, add the meat, cheese, lettuce, salsa (and any other toppings of choice), mix together and enjoy!
Not keen on eating out of the bag? No problem. Just mix it together in the main compartment of your lunch container instead for a delicious Plentils Taco Salad!
For those that don't want the meat cold or at room temperature, you could pack the meat in a thermos instead.