Share
Share on Facebook
Share on facebook
Tweet on Twitter
Share on twitter
Pin on Pinterest
Share on pinterest


Translation missing: en.general.social.alt_text.print
Print


Translation missing: en.general.social.alt_text.email
Send email
Two weeks ago, I had the chance to be in San Diego for our first time out with our new booth:  Enjoy Life Land!  I was lucky enough to watch hundreds of people, many of them kids, wander through Enjoy Life, learning more about our company and enjoying the samples we have in stations across the booth.
The best part for me, though, came after our visitors left.  That's because so many of you left notes about your #JourneytoEnjoyLife.  Thank you to everyone who took the time to hang a note on the wishing tree standing in the very center of Enjoy Life Land.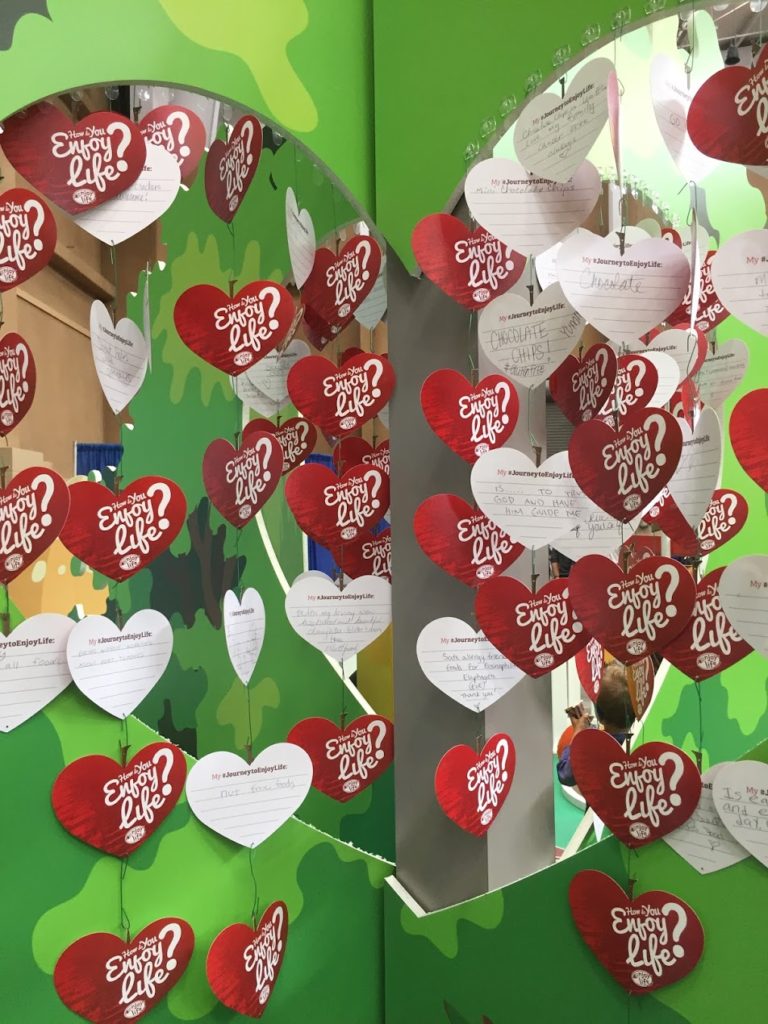 It was great to read about your ideas and wishes for new products and ways to make living a free-from life easier and more fun.  I want everyone to know we take all of your suggestions very seriously – whether you visit us at a show, click onto our website or call us (or even write a letter....if anyone is still doing that!).  We love hearing from you and value your advice!
But I have to admit my favorite notes on the wishing tree weren't about our products at all.  So many of you left a simple note of gratitude and wishes for peace and happiness.  It was so inspiring to be able to read these positive wishes about...well, about "enjoying life"!  As we work to make sure everyone has food and snacks they can enjoy without worry, it's an important reminder.
And, it made me think about the good advice I've been given about a #JourneytoEnjoyLife.  It won't fit on a note for our wishing tree, so I'll share it here.
Some years ago, my oldest brother was thinking about a building a small cabin for himself and his wife (he's a carpenter, so this isn't a crazy dream!).  He needed to look at land, septic, power options – basically, all the things we take for granted.   As he began this project, he told me, "Jim, I have no idea if we'll be able to do this, so I've decided to make sure I enjoy the process no matter what happens at the end."
Well, as it turns out, the project was much more than he and his wife could take on.  The place he wanted to build a cabin was too remote and the expense to get basic necessities too high for him to succeed.  But when I asked him if he was disappointed, he told me very simply:  "No."
"I met people I would never have met in a town I wouldn't have gotten to know, but for this project.  I learned a lot about what it would take to get my cabin.  And, we got to take long walks in the woods looking for just the right place.  So, the journey was a success, even if I didn't get to the destination I wanted."
Don't tell my brother I think he's wise.  But that's pretty good advice for anyone on a #JourneytoEnjoyLife!
Let me know what you think – and I'd love to hear your advice....it can even be about our products, too!