Share
Share on Facebook
Share on facebook
Tweet on Twitter
Share on twitter
Pin on Pinterest
Share on pinterest


Translation missing: en.general.social.alt_text.print
Print


Translation missing: en.general.social.alt_text.email
Send email
Trick or #TreatFreely with Enjoy Life Foods this Halloween!
Halloween is one of my FAVORITE holidays. Any excuse to put up decorations and indulge in chocolate and pumpkin-flavored everything is a win in my book. When I found out about my allergies and intolerances, I was past the (acceptable) trick-or-treating age, but my mom would send me care packages with allergy-friendly Halloween candy and dairy-free chocolate (including Enjoy Life Foods!) as a special treat.
Just because candy is a big part of Halloween, doesn't mean that the holiday can't be just as fun with an allergy-friendly spin! Here are some ideas to ensure you have the BEST Halloween this year.
Teal Pumpkin Project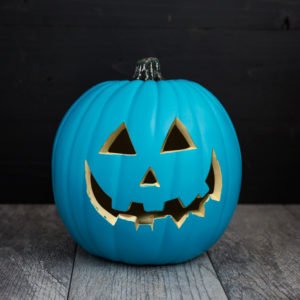 As always, FARE is amazing when it comes to raising awareness for food allergies. The Teal Pumpkin Project was started in 2014 with the belief that every child should be able to experience the magic of Halloween, and the fun tradition of trick-or-treating. To take part, people place a teal pumpkin outside of their home to indicate that they have non-food treats available – perfect for kids with food allergies!
Hand Out Allergy-Friendly Snacks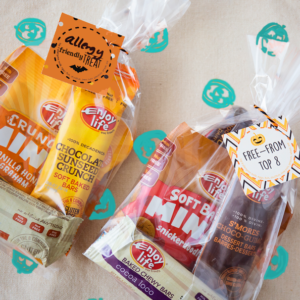 If you still want to hand out special treats for Halloween, there are lots of great gluten, soy and nut-free options out there! We have a variety of Grab & Go options (such as Chocolate Bars, Mini Cookies, and Baking Chocolate Snack Packs) that are perfect for Halloween treats. For more options, we recommend checking in with a food allergy forum for suggestions. No Nuts Moms, for example, is a great resource. Just make sure to have a sign advertising that your snacks are allergy-friendly, or make snacks with a special tag indicating which allergens are not present, so that trick-or-treaters are aware!
Carve Out Time for Fun
One of my favorite parts of Halloween growing up (other than the costumes) was pumpkin carving. Each year, my mom took my sisters and I to the market to pick out the perfect pumpkins. When we got home, we'd sit out on the porch all afternoon, carving our pumpkin creations and saving the seeds to be roasted in the oven (so good!). To help get into the spirit of the holiday, we created a jack-o-lantern stencil for you to print out and use on your own pumpkin – complete with chocolate chip eyes and a big toothy grin! To download this fun stencil, click here!
Throw a Scary-Good Party
Host a costume party that all guys and ghouls are sure to enjoy. Go crazy with decorations, and whip up some fun themed recipes to
serve your guests. We've got a bunch of great spooky ideas on our Recipe Page, such as: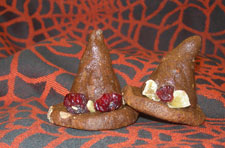 Wicked Witch's Cookie Hats – Create these spooky, gluten-free witch's hat cookies with our Soft Baked Cookies and Seed & Fruit Mix!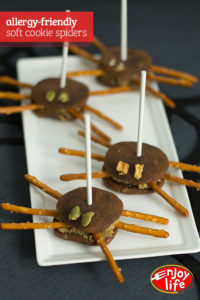 Creepy Spider Cookies – These gluten-free critter crawlers made from our Soft Baked Cookies and Chewy Bars are the perfect allergy-friendly treat!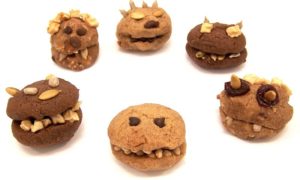 Kooky Cookie Monsters – Make these yummy bites with both regular and Mini Soft Baked Cookies to create monsters of all shapes & sizes!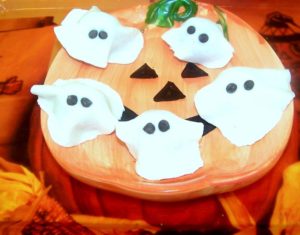 Ghostly Cookies – These spooky ghosts made with our Soft Baked Cookies are hauntingly good!
I hope you all have a great holiday! I'm looking forward to painting my own teal pumpkin, watching scary movies and enjoying too many treats this year. How will you be celebrating? Show us your own teal pumpkins, allergy-friendly treat ideas, costumes and activities on social media by tagging @enjoylifefoods and #TreatFreely. I can't wait to join in the fun!
#TreatFreely,
Kathleen