Share
Share on Facebook
Share on facebook
Tweet on Twitter
Share on twitter
Pin on Pinterest
Share on pinterest


Translation missing: en.general.social.alt_text.print
Print


Translation missing: en.general.social.alt_text.email
Send email
Are you looking to impress your friends with a dessert plate that's both artsy AND delicious? Or maybe you're just looking for new ways to enjoy more chocolate (same). Either way, we know you're going to love this new recipe: Chocolate Cup Molds!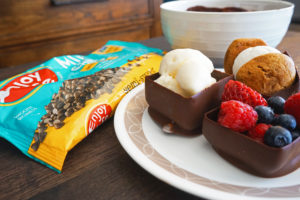 Here's what you'll need:
Large ice cube tray
3 wooden dowels, cut in half (6 pieces total)
Parchment or wax paper
Our vegan chocolate chips & oil, for melting
Toppings – we used dairy-free ice cream, fruit, and allergy-friendly s'mores fixings!
Here's what to do: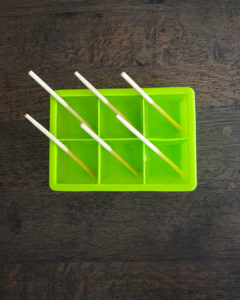 1. Fill the ice cube tray with water and place a dowel in each cavity before freezing.

2. Melt chocolate chips and allergy friendly oil. Use our Baking Chocolate Melting Instructions to get the right consistency.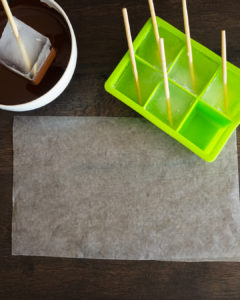 3. Once ice cubes are fully frozen, remove from the freezer and let sit for couple of minutes so they're easy to remove.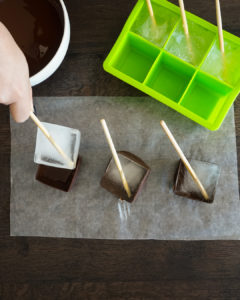 4. Carefully remove each ice cube and dip into the melted chocolate. Be ure to use a deep bowl so that the sides of the ice are almost fully submerged. Then remove from the chocolate and set on a tray lined with parchment paper.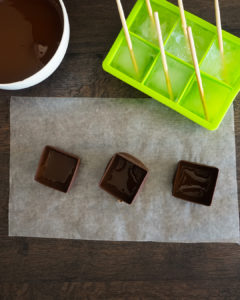 5. Once chocolate has hardened a bit, carefully remove the ice from the chocolate, and place the tray in the fridge or freezer to let the chocolate fully set.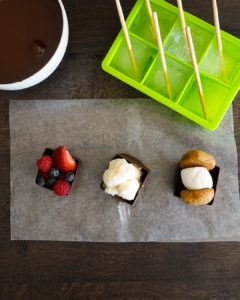 6. Remove from the fridge and add toppings.
Enjoy!