Share
Share on Facebook
Share on facebook
Tweet on Twitter
Share on twitter
Pin on Pinterest
Share on pinterest


Translation missing: en.general.social.alt_text.print
Print


Translation missing: en.general.social.alt_text.email
Send email
A couple weeks ago, I outlined the basics of allergy-friendly substitutes. It's time to put some of those tips into practice with the most classic of classic baked goods: banana bread.
Oh, yes, banana bread. You really can't go wrong. I mean, who can say no to a moist, warm loaf of the cinnamon-spiced comfort food that's perfect for breakfast, snack, or dessert?
Traditional banana bread is straightforward. You have the flour, butter, eggs... but then you realize, wait, those are all a no-go when you're baking without the top 8. I promise you, though, the swapping is simple.
Here's a comparison of a classic recipe versus an allergy-friendly banana bread recipe, and suggestions on why this works for the best results. The numbers beside the ingredient modifications are described in detail below the recipe.
Classic Banana Bread – Conventional
Classic Banana Bread – Allergy-Friendly 
1 3/4 C. all-purpose flour

3/4 C. granulated sugar

1 t. baking powder

1 t. ground cinnamon

1/2 t. salt

1/4 t. baking soda

1 1/2 C. mashed bananas

1/2 C. unsalted butter, melted, cooled

1/4 C. buttermilk

2 large eggs

1 t. vanilla extract

1 3/4 C. gluten free, all-purpose flour (1)

3/4 C. granulated sugar

1 1/4 t. baking powder (2)

1 t. ground cinnamon

1 t. xanthan gum (3)

1/4 t. salt (4)

1/4 t. baking soda

2 C. mashed bananas (5)

1/4 C. dairy-free buttery spread, melted, cooled (6)

2 T. olive or grapeseed oil (7)

2 T. dairy-free milk (8)

1 T. cider vinegar (9)

1 t. vanilla extract
Use gluten free, all purpose flour in place of all-purpose flour. It's the perfect 1:1 substitution, thanks to its balanced combination of protein and starch.
The additional baking powder comes from the need for a bit of extra lift since we're omitting the eggs.
Xanthan gum is adding a bit of binding power. You don't need much because a little goes a long way. It acts like gluten, without the gluten.
The salt is decreased in the revised version since we're using salted dairy-free buttery spread rather than unsalted butter, like the original.
The additional mashed bananas not only add flavor but also help with binding and moisture, taking on the role of an egg. A good rule of thumb is using 1/4 cup fruit puree per egg, so this works for replacing the two eggs in the recipe.
The dairy-free buttery spread has the same water content of regular butter. Not all margarines do the same: some contain dairy, and most contain a much higher water content for spreadability. Make sure you get one suitable for baking.
The combination of oil with the buttery spread allows for longer shelf life and added moisture.
The dairy-free milk adds just the right amount of extra liquid to create a batter, and by adding cider vinegar, it delivers perfect acidity for the tenderness buttermilk would provide.
The cider vinegar works multifold here: for lift, tenderness, flavor, and shelf life. In fact, you should add 2 teaspoons to 2 tablespoons of cider vinegar to most gluten-free baking to add that magic.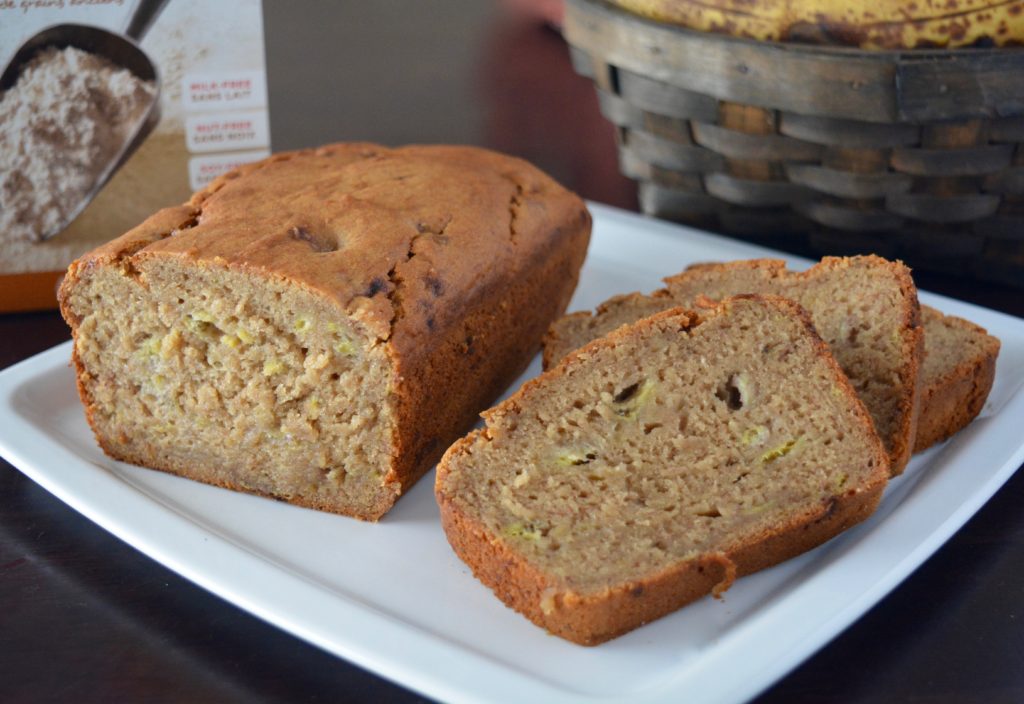 Making this loaf couldn't be easier. Read on for additional ways to elevate your banana bread to the next level:
Cut the amount of granulated sugar in half, and add 1/4 cup of brown sugar for a richer, caramelized flavor
Add 1/2 teaspoon nutmeg and 1/4 teaspoon cloves for some seasonal-inspired spice
Add up to 2 tablespoons ground flax to up omega-3 fatty acid nutritional content
Toss in seeds, dried fruit, any varieties of Baking Chocolate... or combine all of them and use the Seed and Fruit Mixes
Add a cinnamon or vanilla glaze by mixing confectioners' sugar with spice or extract, then enough dairy-free milk until thick and pourable
Divide the mixture into a standard-sized muffin tin, baking for 15 to 20 minutes
About Laurie Sadowski
Laurie Sadowski is the author of three cookbooks devoted to gluten-free, vegan, and allergy-friendly baking. Using baking chemistry as a basis, everything is developed—and guaranteed—to taste 'just like the real thing'. For more, visit lauriesadowski.com.