Adapted from www.KeeleyMcGuire.com
Applewiches are perfect for school lunches and make a delicious snack without using any sliced bread.
Ingredients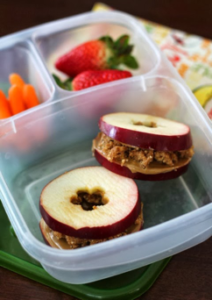 2 apples
Sunflower seed spread
1 box Enjoy Life Foods Caramel Apple Chewy Bar (or flavor of choice)
Directions
Slice apples and core the center with a mini cutter. Tip: Keep your apple slices from browning by soaking them in apple juice for a few minutes.
Slather SunButter on each side of the apple.
Crumble Enjoy Life Foods Chewy Bar on top of the sunflower seed spread.
1 apple yields 2-3 Applewiches