Share
Share on Facebook
Share on facebook
Tweet on Twitter
Share on twitter
Pin on Pinterest
Share on pinterest


Translation missing: en.general.social.alt_text.print
Print


Translation missing: en.general.social.alt_text.email
Send email
Getting ready to head back to school after a summer filled with friends, family and fun vacations can seem like a bummer, but it doesn't have to be! We've teamed up with some of our favorite allergy-friendly brands to help make the transition a bit easier with an amazing giveaway!
Here's a look at what you can win: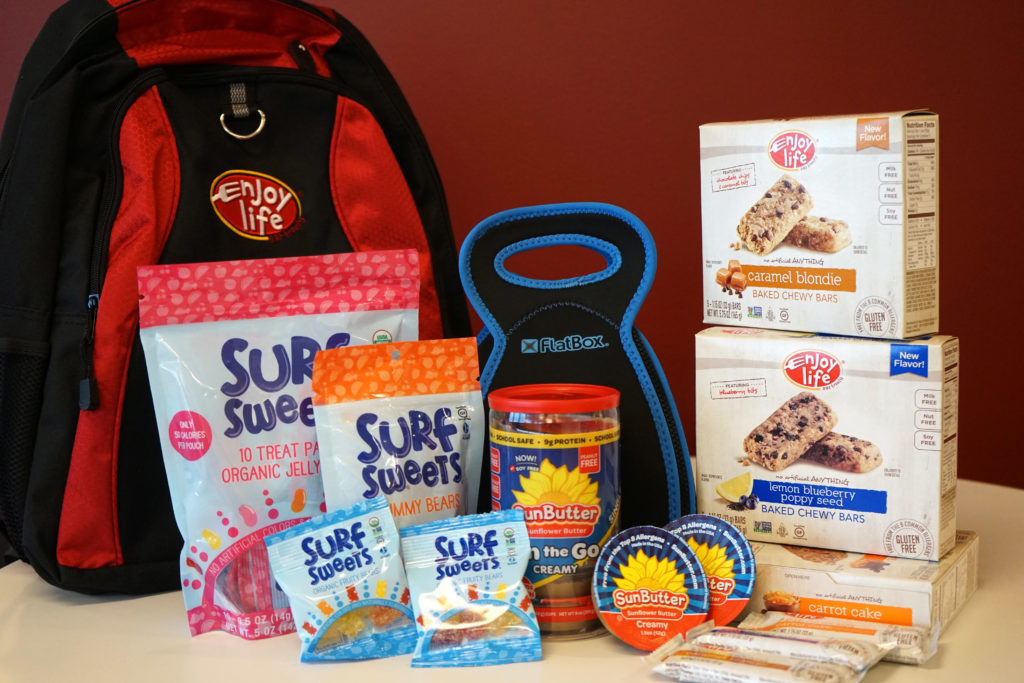 An Enjoy Life Foods Backpack – Go back to school in style and have the perfect place to stash your snacks.
A FlatBox Lunchbox – This insulated and machine washable lunchbox converts to a placemat to provide a clean surface with each use!
Three NEW Chewy Bar Flavors from Enjoy Life Foods – Our new Caramel Blondie, Carrot Cake, and Lemon Blueberry Poppy Seed Chewy Bars are the perfect addition to an allergy-friendly lunchbox or for an after-school snack.
SunButter On the Go Creamy Single Cups – Your favorite top 8-free sunflower seed spread, perfectly packaged into single-serving cups. Each cup has 9g of protein and is great for dipping or spreading!
Surf Sweets Easy-Share Candy Packs – Choose from an assortment of top 8 allergen-free candies for a sweet treat in your child's lunchbox.
Sounds great, huh? This set of allergy-friendly goodies can be yours! All you have to do is enter below. 8 will win. Giveaway ends August 18th at 11:59 PM PST, and is limited to US & Canada. Good luck! a Rafflecopter giveaway