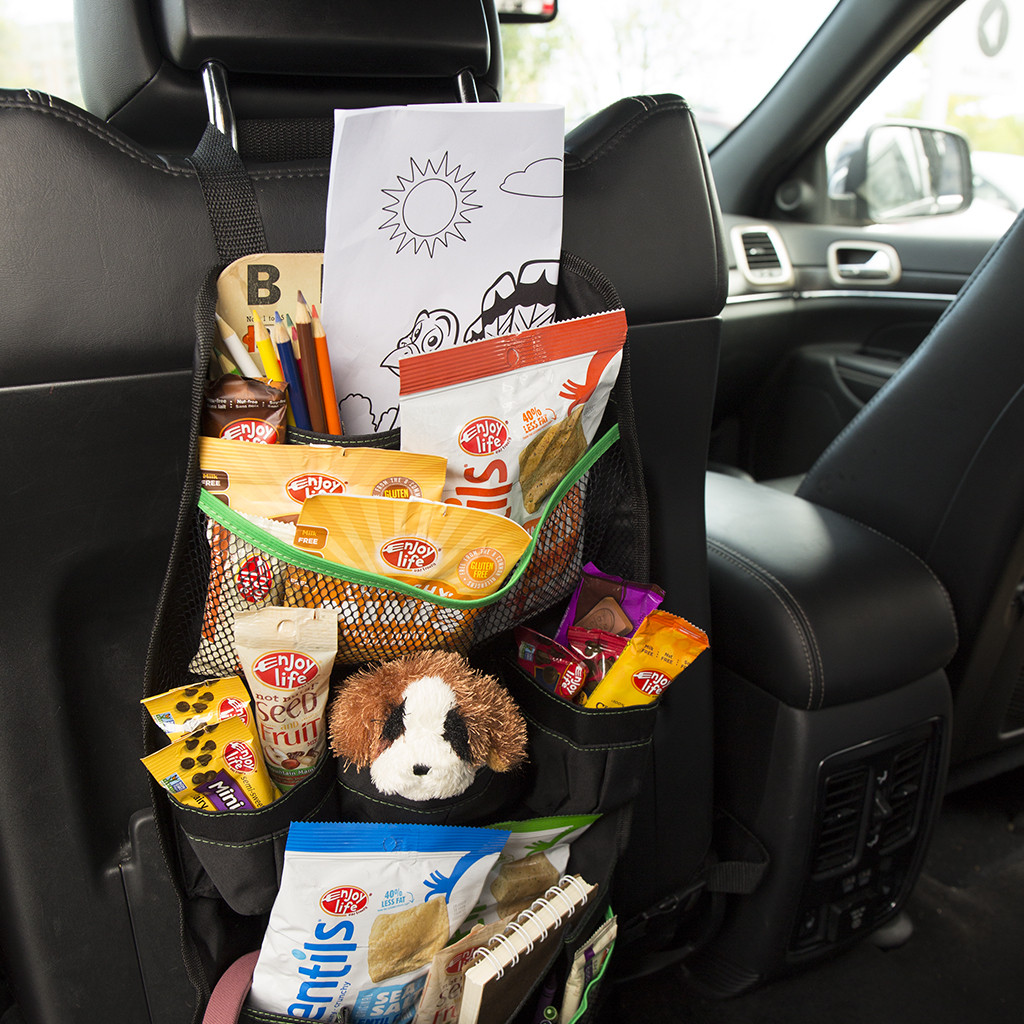 I love traveling, whether it's over spring break, summer vacation, or the holidays! I have multiple food allergies (gluten/wheat, dairy, corn, peanuts, apples and tomatoes), so whenever I travel, I always make sure that I'm prepared for anything. This means planning out our schedule and stops, and bringing all the essentials (I always  have Enjoy Life Foods Chocolate Bars in my purse!). With family trips coming up, I wanted to share some of my tips for allergy-friendly travel:
Map out your road trip ahead of time

– Know where you're going, where to find allergy-friendly food and where to go in case of an emergency. One of my favorite allergy-friendly destinations is Disney World. The chefs are so attentive to food allergy needs, and Disney Parks and Cruises even have Enjoy Life Foods products decked out with Mickey and the gang as part of their Snacks with Character! These treats can be found all over, which is perfect for a day at the park! Whenever my family gets their ice cream, I can grab a Crunchy Cookie and not have to miss out. If you're planning a Disney trip, make sure to use #EatFreelyDisney so we can see all the fun and know the latest of where to get allergy-safe snacks. 

Call ahead –

Contact your relatives, hotel and possible restaurant stops ahead of time to let them know about your dietary needs, learn about their food allergy policies and plan accordingly. Have backup stops in place in case the trip takes more or less time than expected. It's also a good idea to note any nearby grocery stores so that you can buy food if you don't find any restaurants that work with your diet. My family is always great about catering to my dietary needs for Thanksgiving and holiday meals, which is awesome! Communication is definitely key.

Bring food

– This is something that I can't stress enough. Make sure you have enough food with you so that you don't have to worry about running out of safe options. Trust me, you don't want to be stuck without anything to eat! I bring a good mix of high-protein options, fruits & veggies, and snacks. I love

Grab & Go options

for a nice snack variety for the car! If you have some travelers that don't have food allergies, make sure to use a separate container for the allergy-friendly snacks to prevent cross-contamination. Whenever we travel to my grandparents' house for holiday dinners, I always make sure to bring Kathleen-friendly meal options just in case (i.e. all of the dishes we contribute are always allergy-friendly – no one can ever tell the difference!).

Bring medication

– Don't leave home without your EpiPen, or two! Make sure you are 100% prepared for a possible emergency. It's definitely better to be over-prepared than not at all.
The big takeaway? Plan ahead. Winging it is hard when you have allergies, and traveling is supposed to be fun and stress-free! I hope my tips help make your vacation a great one. I'd love to see where you all go, so feel free to send me photos of your allergy-friendly trip at kshannon@enjoylifefoods.com for us to share with our community!
Eat Freely,
Kathleen