Share
Share on Facebook
Share on facebook
Tweet on Twitter
Share on twitter
Pin on Pinterest
Share on pinterest


Translation missing: en.general.social.alt_text.print
Print


Translation missing: en.general.social.alt_text.email
Send email
Memorial Day is a time to to honor the men and women who served in the US military. Throughout the country, families celebrate this holiday with parades and barbecues to memorialize the lives and contributions of those who served.
At Enjoy Life Foods, we know that the right food can make a celebration spectacular. With that in mind, we've got some allergy-friendly recipes that are perfect for spicing up your family feast! I'm from North Carolina, so this fried chicken recipe is right up my alley! Pair it with some sweet potato fries and allergy-friendly coleslaw and you've got yourself a par-tay!
Plentils-Crusted Oven-Fried Chicken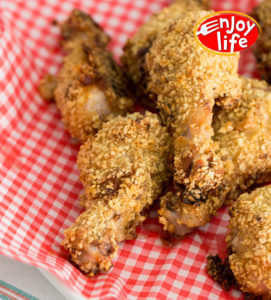 Crispy, crunchy and mouth-watering good!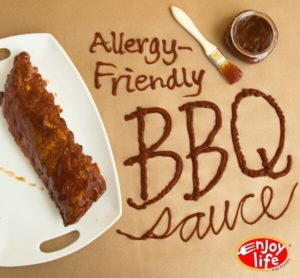 A bit of sweet and a bit of savory, this sauce is perfect for topping chicken, veggies & more!
In addition, here are some tips for keeping your Memorial Day barbecue safe for the whole family!
To prevent cross-contamination, work in a disinfected area while preparing food.
Read and save all labels – there can be hidden allergens hiding in packaged food, so you want to pay attention and have that information on hand.
Make your own sauces, dressings, and marinades using fresh ingredients so you know exactly what's included!
With these recipes and tips, your family outing is sure to be a success. How will YOU be celebrating this Memorial Day weekend? Send us a photo via social media (making sure to tag @enjoylifefoods and use #eatfreely!) or email me at kshannon@enjoylifefoods.com – I can't wait to see all the fun!
Eat Freely,
Kathleen