Share
Share on Facebook
Share on facebook
Tweet on Twitter
Share on twitter
Pin on Pinterest
Share on pinterest


Translation missing: en.general.social.alt_text.print
Print


Translation missing: en.general.social.alt_text.email
Send email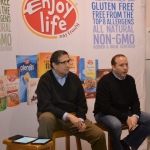 First, on behalf of the entire Enjoy Life Foods team, allow us to start by saying Thank You.
Thank you for the support you have provided Enjoy Life over the past 13 years.
Thank you for the trust you have placed in the brand.
Thank you for being the loyal consumers that you are which has allowed us to grow as fast as we have.
Thank you for all of the great input you have provided in helping us make Enjoy Life a great brand, a great company with great products.
Thank you for your willingness to share the Enjoy Life story with your friends.
Does it sound like we're saying good-bye? On the contrary. We have so much more that we have planned, we want to take this opportunity to share some very big news with you.
As some of you may have already heard, today it was announced that we have joined Mondelēz International. We want to take this opportunity to share some details, and more importantly, what it means for you, our valued consumers.
Allow us to share the good news first:
Enjoy Life employees will remain Enjoy Life employees. We will continue to operate the company as a separate entity within Mondelēz International.
Enjoy Life's dedicated production, as you know it today will remain the same, and we will continue to produce in certified gluten free, and dedicated nut-free locations.
We are not changing our products' gluten free, allergy-friendly non-GMO ingredients, the ones in which you've placed your trust.
We are not changing what has made our company what it is today. We will remain certified Gluten-Free, Free From the Top 8 Allergens (12 in Canada, 14 in EU), with no artificial ingredients, and all of our products will remain verified non-GMO.
So why do what we are doing? Great question.
When we started this business over 13 years ago, it was our goal to create great-tasting products that were safe for all family members, no matter what their disease, allergy, or intolerance. Over the years, as our products improved, we never wavered from our brand promise, or our goal. But we felt we could do more. We believed that we could make the Enjoy Life brand ubiquitous. We wanted to make certain that our products were available where you shopped regularly, instead of making it necessary to seek out specialty stores. Over the past four years, we have extended our reach from 17,000 stores in North America to where we are today with our products available in over 35,000 stores throughout the US and Canada. We love the fact that you, our great community members, are finding it easier to shop for more of our products. But we feel we can do better. We feel we can do more.
The fact is, we want to produce more innovative products, that taste beyond phenomenal, and that are easy to find in the store of your choice. And we're impatient. We want to do this NOW! We have such a strong desire to get gluten-free, allergy-friendly, better-for-you products that meet your needs into your hands as quickly as possible, and we know to do it right, we needed to bring in some additional resources.
That's where Mondelēz International comes in.
As a global company, with over $34 billion in net revenue, they will be able to help us with innovation, assist us in making the products taste even better than they currently do, help us gain some great additional distribution, and most importantly, allow us to get more great-tasting, gluten free, allergy-friendly products into your hands.
Oh, here's one more thing, and those of you who know us personally will get this. We think we can share some of our learnings and experience with them as well. We will never stop our commitment to non-GMOs in our products. We will continue to extol the virtues of using no artificial ingredients. We will continue to be loyal to the 100 million people in North America who live their daily lives with food allergies, sensitivities and Celiac Disease. We will continue to drive for healthier, better-for-you snacking products, both within and beyond Mondelēz International. We will remain vocal and engaged. We will remain true to our brand.
So there you have it. We wanted you to hear this directly from us before you start reading a lot of things in the news or online. I'm sure there will be questions, and we are happy to answer them. So here is how to reach us.
Email:
Twitter:
Company: @enjoylifefoods
Joel: @enjoylifecmo
Telephone:
Joel's: 847-349-5920
Drop us an
[popup_trigger id="11746″ tag="a"]email[/popup_trigger]
, or tweet at us, or post on Facebook. We are happy to answer any questions that you have. And if it takes us a little bit of time, please understand. We continue to focus on making mouthwatering Snickerdoodles, chocolatey Cocoa Loco Bars, and fantastic dairy, nut, and soy-free baking chocolate morsels and mini-chips. But we promise to answer as quickly as possible in between our daily responsibilities.
Thanks again for your great support.
Scott Mandell                         Joel Warady
(Founder)                  (Chief Sales & Marketing Officer)