Share
Share on Facebook
Share on facebook
Tweet on Twitter
Share on twitter
Pin on Pinterest
Share on pinterest


Translation missing: en.general.social.alt_text.print
Print


Translation missing: en.general.social.alt_text.email
Send email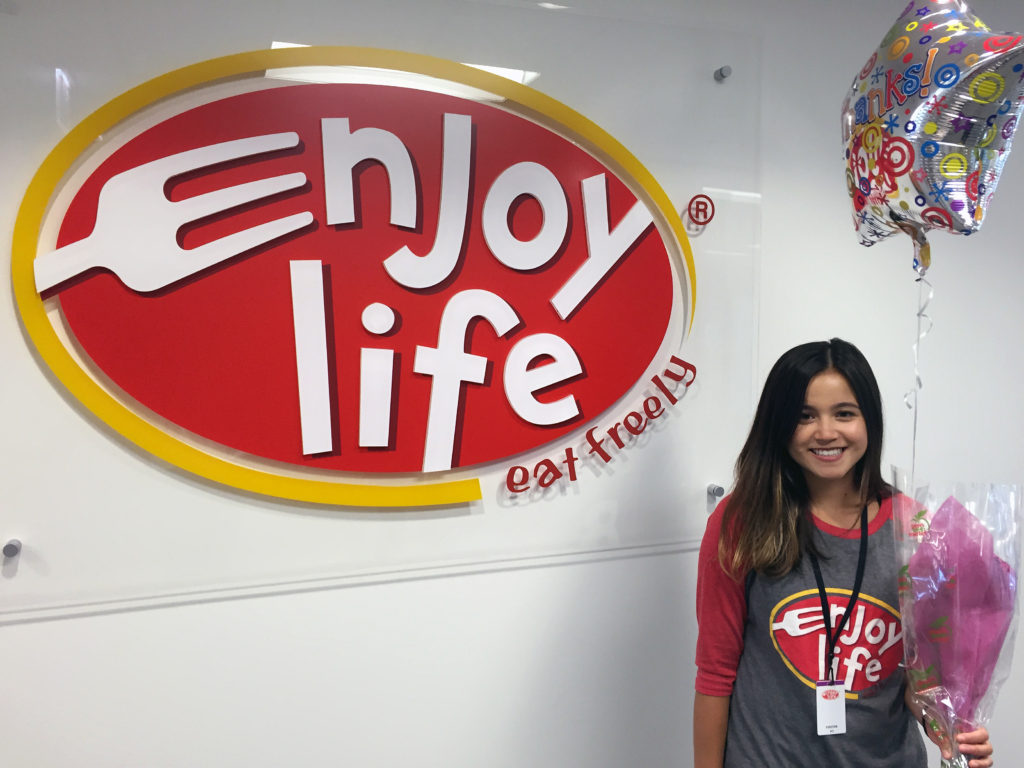 Hi, my name is Brittany Nguyen! I am 20 years old and am a rising junior at the University of Missouri. This summer I had the pleasure of joining the Enjoy Life Food's team as their marketing intern! I was extremely nervous going into my first day at the office, but my nerves were soon put at ease. When I walked in, I was greeted with smiling faces and warm introductions. I quickly learned that Enjoy Life isn't just a company, but a team and a family. Everyone on the Enjoy Life team strives for one common goal—to provide safe foods people with food allergies and dietary restrictions can trust, without sacrificing the taste. Being someone with a severe tree nut allergy, it means the world to me.
When I was 5 years old, I found out about my anaphylactic tree nut allergy. Since then, my life has been a series of learning how to deal with my food allergies and how to safely consume food. My mom is always worried that I will have an anaphylactic reaction, so she instilled in me to always check ingredients and carry my EpiPen. When I entered my freshman year of college, I was terrified that I would have an allergic reaction in front of everyone in the dining hall or in front of my friends. To my delight, I discovered the many resources my University offers to help navigate the dining halls when living with food allergies. In addition to campus resources, I have learned some other allergy-safe college tricks a long the way.
Here are my top 8 tips to survive college with food allergies!
Google: (Your Campus Name) Food Allergy

The best place to start is to research the resources your campus offers to help students safely navigate the dining halls. When I Google searched "The University of Missouri food allergies," it brought me to something called "Zoutrition." Zoutrition lists the top 8 common food allergens (wheat, dairy, peanuts, tree nuts, egg, soy, fish and shellfish), and from there gives you the ability to select what you are allergic to. From there, Zoutrition will show you what you can safely eat at which dining halls on campus. In addition to the filtered search, the platform provides an ingredient list for every dish they make.
Don't forget to check if your dining hall has a gluten-free station. This is becoming more popular at colleges!

Find your staples

A simple tip, but after you have successfully navigated the dining halls, pick 10 things you like and know are safe to eat.  These 10 staples will be great options for when you're in a hurry! My staple was the sandwich line since there were no nuts in sight!

Always read the ingredients (even if your friend says it's safe)!

You always have to remember that you're the one with the food allergy, not your friend. Even though they may have read the ingredients or baked something without your allergens, always double check. At times, my friends didn't understand the severity of my food allergy. They would bake something without allergens, but they may have cross contaminated with handling tree nuts beforehand. It doesn't hurt to double check!

Always have two EpiPens and Benadryl with you not matter where you go.

Forgetting your EpiPen is the biggest mistake someone with a food allergy can make. No matter where you go—an intramural game, football game, party, dinner, class, etc.—always bring your EpiPen with you. You never know when you will need it. One time I was playing beach volleyball and my throat began to swell up—I was having a delayed reaction to accidentally eating a tree nut. My EpiPen and Benadryl saved my life that day! Even if you don't think you will need it, bring it!

Teach your friends how to properly use an EpiPen and inform them of where you keep yours.

When I first met my college friends, they didn't even know which end the EpiPen needle came out of. Now that I have showed my friends on a practice EpiPen, they know exactly what to do and where to find it in case of an emergency. It puts my mind at ease knowing they would be able to help me if I couldn't tell them what to do during a reaction.

Don't be afraid to ask your waiter or waitress questions when out to eat on a date.

I used to be embarrassed asking multiple questions about what was in my food on a first date, but if a guy or girl likes you, they won't care! Knowing exactly what you will be eating is key when you have food allergies. Don't let the fear of embarrassment stop you from eating safely!

Keep snacks in your dorm

If worst comes to worst and you have no safe food options, stock up on your favorite allergy-friendly foods to keep in your dorm room or apartment. If where you're living allows you to bring a mini fridge and microwave, do so! A 5-minute meal can go a long way. I suggest treats like this Enjoy Life muffin-in-a-mug!

Have fun!

Don't stress too much—you know how to manage your allergy. You have managed it your whole life! Don't question yourself just because you are in a new environment. You got this!
I have learned so much during my time with Enjoy Life! The team consistently demonstrated their immense dedication to people with food allergies by always putting their consumer's needs first. The passion they have for their work is inspiring! Nothing made me smile quite like the feel-good-email we receive every morning showcasing an allergy kiddo eating freely with Enjoy Life snacks. Although my internship is coming to an end, I will continue to be a life-long supporter and consumer of Enjoy Life Foods when I head back to college this fall!
Eat Freely,
Brittany