Share
Share on Facebook
Share on facebook
Tweet on Twitter
Share on twitter
Pin on Pinterest
Share on pinterest


Translation missing: en.general.social.alt_text.print
Print


Translation missing: en.general.social.alt_text.email
Send email
A classic chocolate chip cookie recipe made allergy-friendly! Read our Baking Science: Chocolate Chip Cookies blog post to learn how each traditional ingredient is swapped for allergy-friendly alternatives to create these soft and cakey treats.
Soft and Cakey Chocolate Chip Cookies
Makes about 10 medium cookies
Ingredients
7 T. dairy-free buttery spread
1/4 C. granulated sugar
2 T. packed dark brown sugar
1 T. pure maple syrup
1 t. vanilla extract
1 C. + 2 T. gluten free all-purpose flour
1/2 t. xanthan gum
1/4 t. baking soda
1/4 t. baking powder
1/4 t. salt
3/4 C. Enjoy Life Foods Mega Chunks
Instructions
Line a baking sheet with parchment paper.
Add the buttery spread to the bowl of a stand mixer. Add the sugar, brown sugar, maple syrup, and vanilla extract. Using the stand mixer (a hand mixer will work too), beat until light and fluffy, about 3 minutes.
Add the All-Purpose Flour, xanthan gum, baking soda, baking powder, and salt in a medium bowl. Whisk to combine.
Add the flour mixture to the sugar mixture. Beat until a dough forms. It will be thick, light, and fluffy. Stir in the Mega Chunks.
Refrigerate the mixture for 1 hour
Preheat the oven to 350˚F.
Using your hands, roll about 2 tablespoons of dough between your palms, then press slightly on the prepared baking sheet.
Bake for 13 to 15 minutes, until lightly golden on the edges.
Let the cookies cool on the pan for 10 minutes, then transfer to a wire rack to cool completely (or serve warm). They will become more firm as they cool.
Store leftovers in an airtight container at room temperature for up to 2 days, and any other leftovers to the freezer.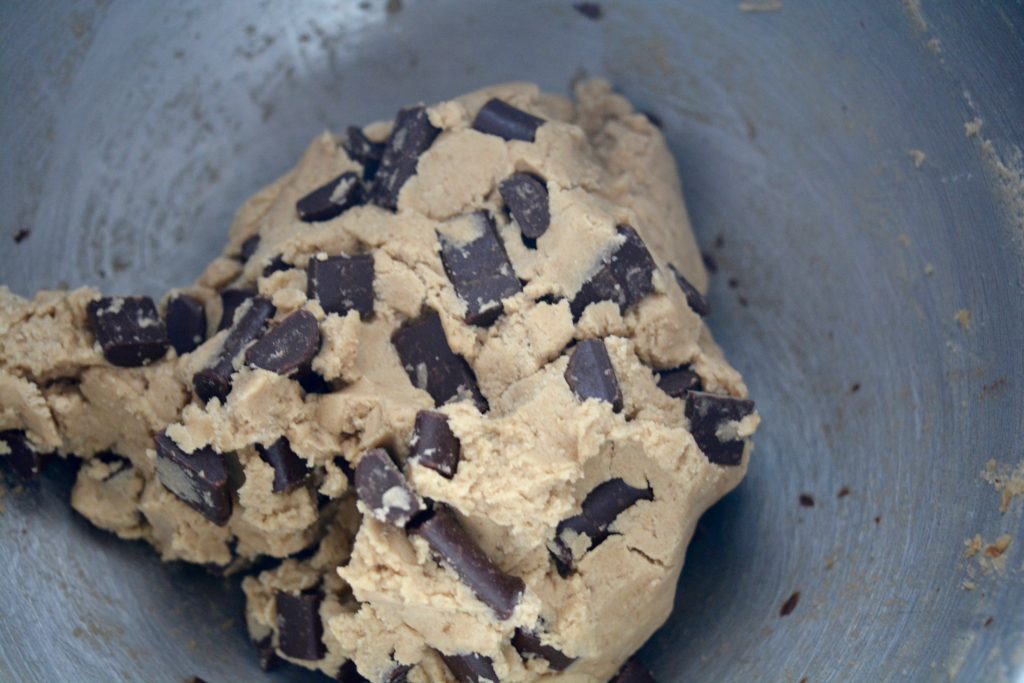 About Laurie Sadowski
Laurie Sadowski is the author of three cookbooks devoted to gluten-free, vegan, and allergy-friendly baking. Using baking chemistry as a basis, everything is developed—and guaranteed—to taste 'just like the real thing'. For more, visit lauriesadowski.com.
SaveSave