Share
Share on Facebook
Share on facebook
Tweet on Twitter
Share on twitter
Pin on Pinterest
Share on pinterest


Translation missing: en.general.social.alt_text.print
Print


Translation missing: en.general.social.alt_text.email
Send email
Our red Enjoy Life logo is a badge for permission to eat freely. To free you from any doubt or worry, and allow you to experience the simple pleasure of enjoying delicious free-from foods you can feel good about. To make the dreams of "what ifs" in your head possible. What if you could enjoy a verified non-GMO snack and just indulge a little? What if you could pronounce all the ingredients of a soft baked cookie and know that it is made from real food? With our line of 60+ free-from foods we're giving you that food freedom and the permission to eat freely.
We want to extend the permission to eat freely into permission to enjoy life! If you could do anything, what would you do? We want to tune in on that feeling of liberation and encourage you to eat freely and do what makes you happy! Eating freely and doing what makes you happy sometimes means eating vegan, 3-ingredient chocolate for breakfast, skipping a day of cleaning, or treating yourself to a you-day—we get can behind that.
We created these printable permission slips to remind you to take time to enjoy the little things. Permission to bake your favorite treats with probiotics? Check. Permission to enjoy a snack made with plant-based protein during your workday? Check! Whether you're eating non-GMO, gluten-free, dairy-free, vegan—you name it—Enjoy Life has your back.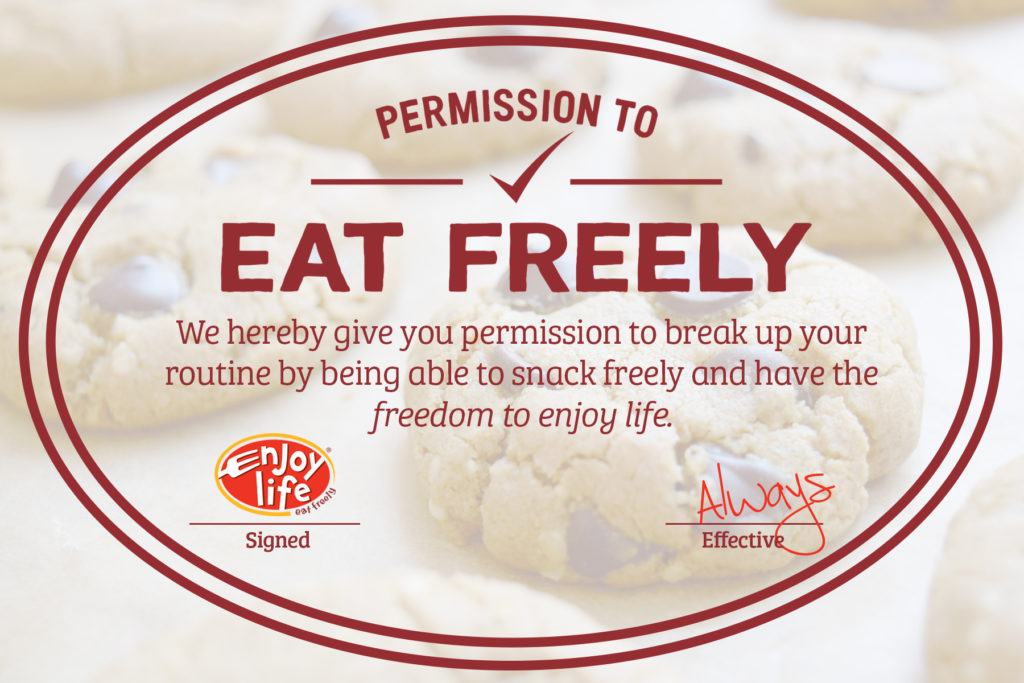 The most meaningful moments can come from those you feel liberated to spin into a positive situation. Stuck in traffic? There's a gluten-free chocolate chip cookie for that. Workday running long? There's an on-the-go ProBurst Bite for that! Enjoying snacks made with your body and cleaner ingredients in mind allows you to enjoy life in any situation!