Share
Share on Facebook
Share on facebook
Tweet on Twitter
Share on twitter
Pin on Pinterest
Share on pinterest
translation missing: en.general.social.alt_text.print
Print
translation missing: en.general.social.alt_text.email
Send email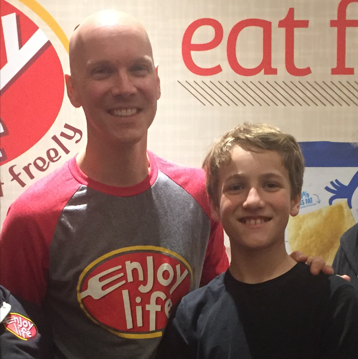 Hi, everyone.   Our Enjoy Life blog team has decided to turn the internet mic over to me for this week, so let me introduce myself.
My name is Jim Low and I was named the General Manager for Enjoy Life back in October.  I'm so thankful to be leading our passionate team to make the best tasting free from products you can buy!  I hope everyone reading this has had a chance to try our new products from 2016, especially our new Plentils flavors, ProBurst Bites, Mini Cookies and chocolate Snack Packs.
One of the reasons I'm thrilled to be a part of the Enjoy Life team is the ability to have an open conversation with the people who love our products. Your comments here and on Facebook, pictures on Instagram and your emails and phone calls are so valuable because they help us stay true to our mission and learn every day what's important to you.  Thank you for taking the time to share with us!
Because you share, I know how important it is for us to be true to our mission:  to create and share great tasting free-from food products the world trusts and loves. Food allergies touch my own family, so I know what it's like to worry about whether what I'm buying is safe.  "Eat Freely" is more than a slogan; it's a mission we've taken on for everyone who buys our products.
We have great plans in store for 2017, including lots of new products to help make free-from living even better.  Watch this space to hear about them.  Plus, we'll be attending food shows around the country all year long.  I plan on visiting with our friends in San Diego in February; please stop by the Gluten Free/Allergy Free Expo and say hello!
I hope it's not too late to wish you a Happy New Year.  My best to you and your families for a wonderful 2017!