Share
Share on Facebook
Share on facebook
Tweet on Twitter
Share on twitter
Pin on Pinterest
Share on pinterest


Translation missing: en.general.social.alt_text.print
Print


Translation missing: en.general.social.alt_text.email
Send email
Allergy-Friendly Bakery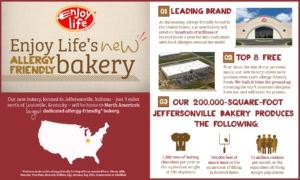 On September 8, 2016, Enjoy Life Foods will officially open the doors of its brand new allergy-friendly bakery. Our new bakery, located in Jeffersonville, Indiana – just 3 miles north of Louisville, Kentucky – will be home to North America's largest dedicated allergy-friendly* bakery. As the leading allergy-friendly brand in the United States, our new bakery will produce hundreds of millions of trusted foods a year for kids and adults with food allergies around the world.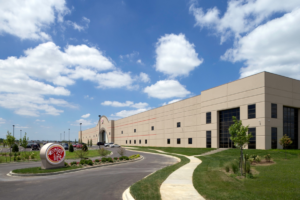 Our 200,000-square-foot Jeffersonville bakery produces the following: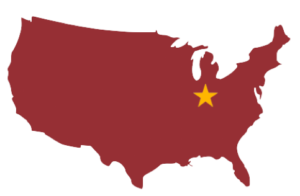 780,000 feet of snack bars per month or the equivalent of filling 14 football fields
1 million cookies per month or the equivalent of Hong Kong's population
1,500 tons of baking chocolate per year or the equivalent weight of 230 elephants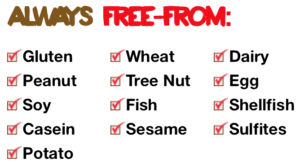 That's a lot of delicious, free-from food! Our Jeffersonville bakery, four times the size of our previous space, allows us to produce even more of the allergy-friendly foods you love so you can eat freely. We built it from the ground up, meaning absolutely none of the top 8 common allergens, or the Priority 12 for our Canadian fans, have not and will never be present in the space.
Join Us on Facebook Live for the Grand Opening!
Please join us on September 8, 2016 from 9:15 AM – 10:00 AM EST as we broadcast the grand opening and ribbon cutting ceremony on Facebook Live. Later in the afternoon, Enjoy Life's Chief Marketing & Innovation Officer, Joel Warady, will do a Q&A with our fans. Join us on Facebook Live from 2:30 PM – 3:00 PM EST to ask Joel any questions you want to know about our new bakery! Want to know more about the grand opening? Tweet @enjoylifefoods using #CelebrateFreely!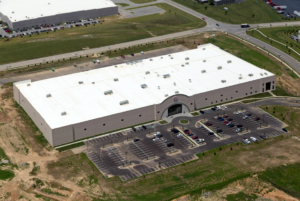 *Products made at this allergy-friendly bakery will not contain Wheat, Gluten, Milk, Peanuts, Tree Nuts, Mustard, Sulfites, Egg, Sesame, Soy, Fish, Crustaceans or Shellfish.