Share
Share on Facebook
Share on facebook
Tweet on Twitter
Share on twitter
Pin on Pinterest
Share on pinterest
translation missing: en.general.social.alt_text.print
Print
translation missing: en.general.social.alt_text.email
Send email
Have you heard the good news? We are excited to reveal the newest member of Enjoy Life's gluten-free and allergy-friendly family: MINI COOKIES! Our Mini Cookies are a similar recipe to the Enjoy Life cookies you've grown to love; we've worked some magic to pack even more flavor into a bite-size cookie perfect for on-the-go snacking!
Packed in a perfectly portioned pouch, our Mini Cookies come in two varieties, Crunchy and Soft Baked. As with any new product Enjoy Life launches, our Mini Cookies are certified gluten-free, free-from the top 8 most common food allergens and most importantly, taste great! Now you'll never have to be without a safe on-the-go treat!
Each box contains 6 single-serve packs making it easier for you to eat freely everywhere you go. Toss a pack in your kid's lunchbox for a tasty lunchroom surprise, grab a pack for an on-the-go dairy-free dessert or keep at your desk for a mid-afternoon pick-me-up: the possibilities are endless!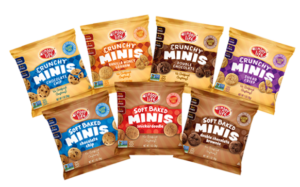 Our new Mini Cookies are available in 4 Crunchy and 3 Soft Baked and varieties:
Chocolate Chip: Your favorite Chocolate Chip Soft Baked Cookie now mini! Loaded with soy-free and dairy-free chocolate chips, our tasty free-from treat will be a perfectly sweet addition to your lunchbox.
Double Chocolate Brownie: Double the chocolate, double the soft baked goodness of these grab & go favorites! Double Chocolate Brownie Mini Cookies are the perfect indulgent mini treat. Throw a pack in your lunch bag and turn lunchtime into a chocolatey escape.
Snickerdoodle: Craving a little sweetness and a warm cinnamon taste? Our soft Snickerdoodle Mini Cookies will satisfy anyone's sweet tooth, and will be your go-to snack when you need a sweet pick-me-up.
As always, Mini Cookies follow the Enjoy Life brand promise — they are certified gluten-free, verified non-GMO and free-from the top 8 common allergens: wheat, dairy, peanuts, tree nuts, egg, soy, fish and shellfish. Mini Cookies are certified Kosher & Halal and contain no artificial ingredients.

When are Mini Cookies available?
Today!
What retailers can I find Mini Cookies in?
Look for Mini Cookies in the gluten-free section of your store this fall! Can't wait to try these bite-size cookies? You can also find them online here! When you see Mini Cookies in-store, snap a photo and tag us with #EnjoyLifeShelfie!
How much do they cost?
MSRP for a 6-pack box costs $4.79.
I can't wait to try!
We can't wait for you to try either! Click the "Buy Now!" option at the top right hand side of this page and #minifreely now!
#MiniFreely, Enjoy Lifers.