You asked, and we listened! We're excited to introduce our NEWBaking Chocolate Snack Packs! America's #1 allergy-friendly baking chocolate is now available in perfectly portioned, 1-oz. snack packs for all of your on-the-go chocolate snacking needs!
Made with the same recipe as your favorite allergy-friendly baking chocolate, Snack Packs are available in both Semi-Sweet Mini Chips and Dark Chocolate Morsels.
Each bag contains 12 single-serve, 1-oz. packs, making it easier than ever to satisfy your chocolate cravings. Snack Packs are perfect for:
Snacking on-the-go
Topping your morning smoothie
Tossing in your kid's lunchbox
Stashing in your desk for a midday chocolate fix
How will YOU #snackfreely with our new Snack Packs? The sky's the limit!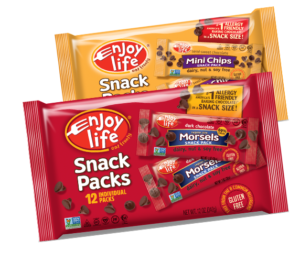 When are Snack Packs available?
Now! Purchase our new Baking Chocolate Snack Packs on our website, and look for them in-stores this fall.
Where can I find Baking Chocolate Snack Packs?
Look for Snack Packs in the gluten-free section of your store this fall! If you don't want to wait (and we don't blame you one bit!), you can find them online here! When you see them in-store, snap a pic and tag us with #SnackFreely!
How much do they cost?
MSRP for a 12-pack bag costs $7.59.
Can't wait to try? Neither can we! Click the "Buy Now!" button at the top right hand side of the page and get snacking!
As always, they are certified gluten-free, verified non-GMO and free-from the top 8 most common allergens: wheat, dairy, peanuts, tree nuts, egg, soy, fish and shellfish. Baking Chocolate Snack Packs are certified Paleo Friendly, Kosher, Halal, and contain no artificial ingredients.