Share
Share on Facebook
Share on facebook
Tweet on Twitter
Share on twitter
Pin on Pinterest
Share on pinterest


Translation missing: en.general.social.alt_text.print
Print


Translation missing: en.general.social.alt_text.email
Send email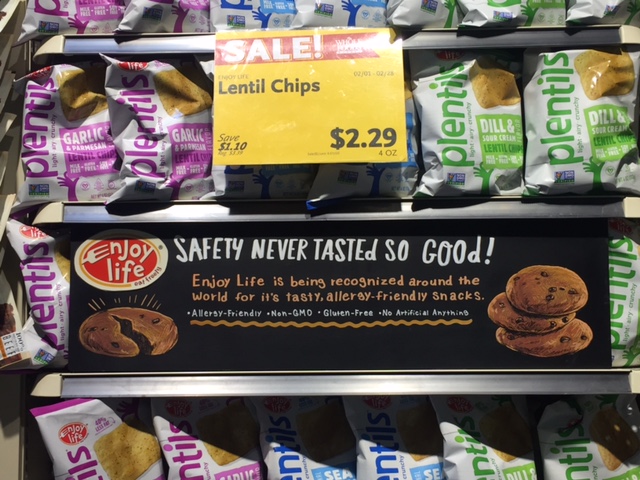 "Safety never tasted so good! Enjoy Life is being recognized around the world for its tasty, allergy-friendly snacks." –Whole Foods Market, Park Ridge, IL
This month, we're celebrating our amazing free-from community with the gift of snacks! We have huge savings going on at Whole Foods Market in the Midwest (Illinois, Indiana, Iowa, Michigan, Minnesota, Missouri, Nebraska, Wisconsin, Toronto). Now through 2/28, grab a bag of Plentils® on sale for just $2.29! Visit your local Whole Foods in the Midwest and look for the Plentils® display. Share a photo of the in-store Plentils® display to Facebook, Instagram or Twitter with #EatFreelyWFM and you could win a Whole Foods gift card!
Find a Whole Foods near you and WIN A $25 GIFT CARD TO WHOLE FOODS!*
How do I enter?
Snap a photo of an amazing display of Plentils®.
Share with #EatFreelyWFM on Facebook, Instagram or Twitter. You'll be automatically entered to win a $25 Whole Foods gift card from Enjoy Life!
Stock up on 3 flavors: Sea Salt, Garlic & Parmesan, Dill & Sour Cream. Eating dairy-free? Don't worry – all flavors of Plentils® are certified vegan – we tricked your taste buds so you can eat freely!

*Must enter by 2/28/17 at 11:59pm CT. Winners will be chosen at random.