Share
Share on Facebook
Share on facebook
Tweet on Twitter
Share on twitter
Pin on Pinterest
Share on pinterest


Translation missing: en.general.social.alt_text.print
Print


Translation missing: en.general.social.alt_text.email
Send email
Hi everyone, I'm Sarah Norris from Gluten Free & Dairy Free at WDW. In my blog, I share lots of tips and information about where to find allergy-friendly products, like my favorites from Enjoy Life Foods, at the Disney Parks & Resorts. In this article, we'll be taking a look at how Enjoy Life Foods can help you eat freely at the Walt Disney World Resort and Disneyland Resort.
—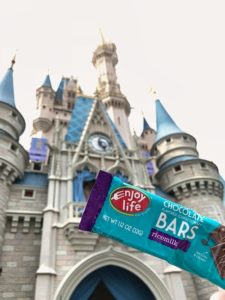 When it comes to planning a family vacation that everyone in the family is sure to love, the Disney Parks are probably at the top of your list. Both the Walt Disney World Resort in Orlando, Florida and the Disneyland Resort in Anaheim, California are two of the world's top vacation destinations. And, with family-friendly entertainment and attractions, it's not hard to see why. There's so much to see and do that everyone in the whole family is sure to find something that they enjoy. To add to the Disney magic, if you're visiting the Disney Parks with a special dietary need, you'll find that the Disney culinary team has worked hard to make sure you have safe and delicious meal options. In fact, the Walt Disney World Resort has been recipient of a FARE (Food Allergy Research and Education) Award for their training and handling of special dietary needs in the parks and resorts. How cool is that?
But, what do you do in-between meals? What kind of safe snack options can you find in the park? Thankfully, with Enjoy Life Foods, snacking in the Disney Parks is so easy. Let's take a look at how you can eat freely at both the Walt Disney World Resort and Disneyland Resort.
Snacks You Can Find in the Disney Parks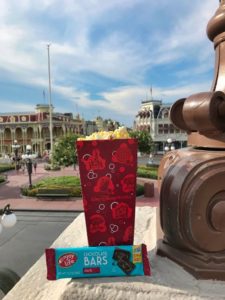 Did you know that some of the most classic Disney snacks may actually be safe for your special dietary needs? Theme park favorites, like freshly popped popcorn and the Pineapple Dole Whip, are a few of the snack items you can find in the parks that may be suitable for gluten free, dairy free, egg free, peanut free, and vegan special dietary needs. Of course, always double-check the ingredients and any potential cross-contamination concerns with a Disney employee to discuss. But, chances are, you'll find a few delicious Disney treats to enjoy while you're watching a parade or enjoying a quiet break in the park.
However, if you're looking for a snack that you can grab and go and know is safe, there's no better option than finding an Enjoy Life Foods item in the parks. And, the great news is that you can find Enjoy Life Foods in all of the Disney theme parks and even some of the Disney resorts too. You'll find Enjoy Life Foods favorites like Ricemilk Chocolate Bars or Mountain Mambo Seed & Fruit Mix that you can grab and go and enjoy while you're waiting in line for your favorite Disney attraction. I've been known to dig into a bag of Mini Cookies while in line on more than one occasion!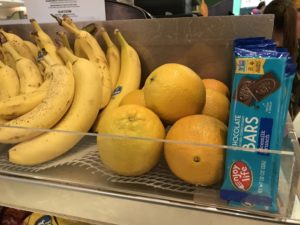 Not sure where to start looking for Enjoy Life Foods snacks in the parks? You can find them in a few ways throughout the Disney Parks. The first, is by looking for their new teal packaging at locations like the Liberty Square Market in the Magic Kingdom or Sunshine Seasons in Epcot. You'll find snack size portions of some items like Chocolate Bars or full size portions of items like Soft Baked Cookies. So, get to #TealSpotting, and keep an eye out for Enjoy Life Foods packaging in the parks.
You'll also find Enjoy Life Foods featured in Disney's Snacks with Character special dietary needs product line. Though the packaging may look different and feature fun Disney characters, the Enjoy Life Foods products contained in them are just as safe and delicious as ever. Snacks with Character themed items do include a variety of brands — some of which may not be safe for your allergy or special diet. Just flip the back of the packaging over to find the ingredients and the Enjoy Life Foods logo.
For more options for snacking at the Walt Disney World Resort, check out my 2018 Gluten Free & Dairy Free Guide to WDW that includes an entire section on snacks and even lists locations where the Snacks with Character product line is sold.
When in Doubt, Bring Your Own!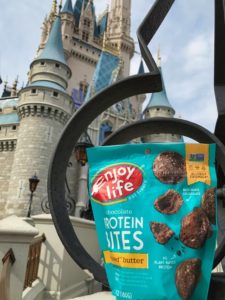 Sometimes, you just want to bring your own snacks with you. And, luckily, the Disney Parks do allow guests with special dietary needs to bring their own personal food items into the parks. That means packing your favorite Enjoy Life Foods items. And your options to eat freely with Enjoy Life Foods is endless. Looking for a quick breakfast to get you fueled up for a morning of riding Disney attractions? Grab some Enjoy Life Foods Protein Bites. Need something that can easily pop into a small bag? Add in a package of Seed & Fruit Mix or one of Enjoy Life Foods' bars. Looking for a salty snack instead of lots of sweets? Pack some Lentil Chips! Mix and match your family's favorites! The options are up to you, and there's something for everyone to enjoy.
#TealSpotting in the Disney Parks and Beyond
Finding Enjoy Life Foods in the Disney Parks is made easy with their new teal packaging and with the items available through Disney's Snacks with Character product line. But, if you're traveling to another Disney destination, don't worry. You'll actually find Enjoy Life Foods available at other Disney destinations, like Disney's Hilton Head Resort or the Disney Cruise Line. In fact, I was just on a recent Disney Cruise and was able to find Enjoy Life Foods featured in several Snacks with Character products. And, I was also able to get Enjoy Life Foods cookies during my meals on board. Of course, don't forget to pack your favorites for whatever travels you take too!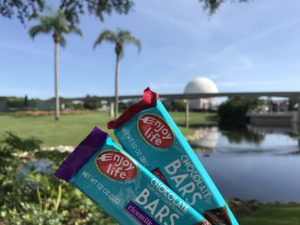 Whether you're spotting Enjoy Life Foods products in the Disney Parks or you're bringing your favorites from home, you can always eat freely at the Happiest Place on Earth. Be sure to tag Enjoy Life Foods and me @gfdfw_wdw and use the hashtags #TealSpotting and #EatFreelyDisney on your next visit to the Disney Parks.