Can you imagine an allergy-friendly camp that's free from the top 8 allergens? Our Brand Ambassador, Wende (you may recognize her from Enjoy Life Land!), worked at one last summer – Camp Blue Spruce! And now she's giving you the inside scoop! Read on to learn more about her experience.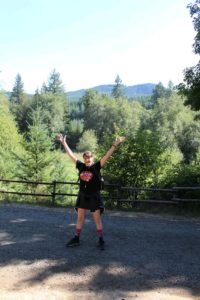 What did you do at Camp Blue Spruce?
My role at Camp Blue Spruce was the Dining Dino.  I ensured that the dining hall meals ran smoothly and on time.  I also made 2 appearances as the Galloping Gourmet where I lead the cooking group activities.  With any free-time, I would join campers in their activities.  We went creek walking, painted pet rocks (found in the creek), flew kites, played games...so many games! And we sang silly camp songs.
How long were you there?
There were 2 days of staff training and 6 days of camp, so a little over a week!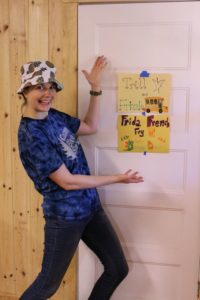 Tell us about the range of food allergies that campers had. Did you see a wide variety? 
Camp Blue Spruce is the only top 8 free week-long camp in the US.  Many of the campers have Celiac disease and/or multiple food allergies.  Over half of the campers had at least one allergen beyond the top 8.  Everyone with an "Extra" allergen was accommodated with safe meals and snacks.  The kitchen staff made 3 versions of every meal in order to ensure everyone was able to eat the same meal safely, it was amazing!!
What was a typical day at camp for you?
All of the cabins were assigned shifts to assist in the dining hall, setting tables before meals and clearing tables/sweeping after meals.  We had 3 meals every day in the dining hall and I would work with the campers to fulfill their tasks.  Between meals I had free-time to meet up with campers and join in their activities.  At the end of the day there was always a big group activity for the entire camp to attend, like a campfire sing-along.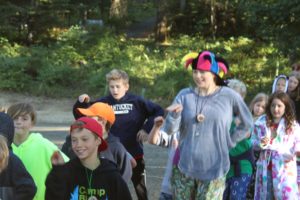 What was your favorite part of working at camp?  
The campers!  Being able to see and share in the joy the campers experienced being in a worry-free environment was amazing!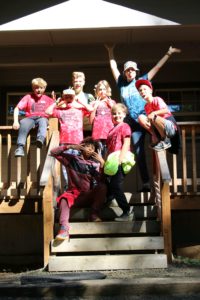 What was the most challenging part? 
The most challenging part was having enough energy to keep us with 80+ campers for 6 days straight. ????Luckily, there was always coffee on in the dining hall.
Why should kids with food allergies look into/go to Camp Blue Spruce? 
Camp Blue Spruce is a magical place for these kids.  They can just be kids and don't have to worry about food.