Share
Share on Facebook
Share on facebook
Tweet on Twitter
Share on twitter
Pin on Pinterest
Share on pinterest


Translation missing: en.general.social.alt_text.print
Print


Translation missing: en.general.social.alt_text.email
Send email
Baking Science – Innovations in Egg Replacers
When folks first started diving into replacing eggs in recipes, the common fallback method was a powdered replacer that worked as a "one-size-fits-all" fix. This commercial mixture – a combination of leavener and starch – did double duty, adding some binding power and lift to eggless recipes so they'd taste more akin to their eggy counterparts.
But now that bakers take the time to explore other options and seek creative alternatives, the need to replace eggs with something from a box is no longer a must do. Cakes, cookies, breads, brownies, puddings, ice creams... anything goes! Not only are they possible without eggs, but without an extra ingredient in our pantry, too.
The next stop in our Baking Science series is looking at these egg replacers and when and why they work best. I've done a lot of exploration on this topic, both in my books and ongoing book talks, taking inspiration from readers' and participants' questions when they try to uncover making simple, uncomplicated allergy-friendly treats. This post will cover some of the most common egg replacing methods, but I'll tell you that while it doesn't end here, this is where it certainly starts, giving you the basic tools in your armory to explore some baking science with success.
But before we get to the six must-know options, you first must-know this: every time you see an egg in a recipe it has a role. It might provide structure, deliver rise and lift, work as an emulsifier, create tenderness, increase shelf life, or add moisture and color. You need to know their function to replace them before you take another step or stir.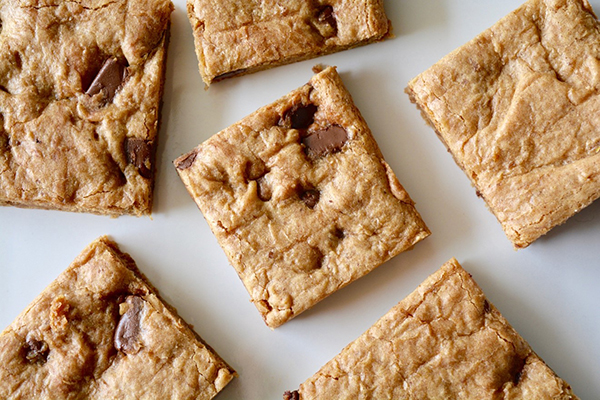 Flax Meal Method
Take these blondies (below) for example. The blondies use a flax meal method, which adds moisture, increases shelf life, but also adds density. The density and moisture are pertinent to blondies (and brownies), so it works well in this context without needing the airiness or flavor that eggs might be there to deliver. The general rule of thumb for 1 egg is 1 tablespoon ground flaxseeds mixed with 3 tablespoons warm water.
Powdered Egg Replacer
If you used commercial powdered egg replacer instead, you'll get a cakier result – that's because the powder is designed to add a little bit of lift (like baking powder), in addition to binding power. If you like this cakey-ness, this might be the best choice for you, but here's a hint: you can easily make your own version that works just as well using 1/4 teaspoon baking powder and 1 tablespoon tapioca flour.
Aquafaba
Another option might be aquafaba, the liquid from canned chickpeas. This is like using an egg white, and the end results would be akin to flaxmeal, minus the increase in shelf life, since it's a little less moist in the long-term. For 1 egg, you'll need 3 tablespoons aquafaba.
Chia Seeds
Chia seeds can also work similarly to the flax, and work well in blondies and brownies because they are already on the dense side. But, be wary of using chia seeds without abandon – too much, in things like breads or cakes – can result in gooeyness and an under-baked texture.
Apple Cider Vinegar
I always call cider vinegar the magic ingredient for allergy-friendly baking. It adds texture, shelf-life, and lift – much of what an egg does, but also assists when treats are dairy and gluten-free, too. Use 1 tablespoon vinegar per egg to deliver a little more oomph, especially when the recipe is vying for a lighter texture (like in cakes or bread).
Dairy-Free Milk and Mashed Fruits
Sometimes, though, a bit of extra moisture is all you need. When that's the egg's role, dairy-free milk works just fine – especially when it has a bit of fat. Alternatively, you can use mashed fruits or vegetables, like applesauce, banana, or pumpkin. These also add moisture, as well as a bit of binding power, density, shelf-life, and taste – all of which goes well with a blank slate blondie.
Use these tips to adapt my Decadent Blondie recipe below. I've included a variation that uses mashed fruit (in this case, banana) instead of the original flax method. You'll notice there's still flax in the variation – that's just for some fibre and nutrition – and other than a few twists to the original's liquid ingredients, the dry ingredients stay the same (save for some spice).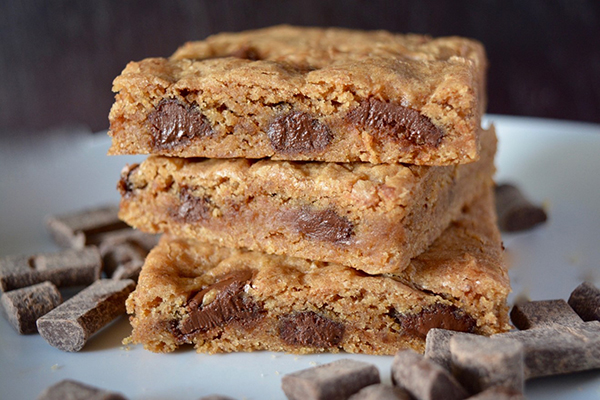 This recipe is forgiving, so if you experiment, just remember these tips (then go let your culinary curiosity take hold!):
When you start replacing eggs in recipes, first work with recipes you've made in the past, which will give you an idea of what the batter should look like before you bake.
Once you expand your experimentation, look for recipes that just have one egg to replace, so you can start small and work your way up.
Keep in mind the egg replacements that add density — you can't replace four eggs in a pound cake with applesauce and expect similar results.
Mix and match your egg replacers. If a recipe calls for two or three eggs, pick and choose the features of the replacers that you need (for example, lift and moisture) and use one of each for optimal results.
Ask questions! Send me a message or post on my Facebook page, and I'll be sure to answer you right away.
Now: blondies, anyone?
Original Decadent Blondies
Spiced-Banana-Rum Blondies

6 T. oil
3 T. unsweetened dairy-free milk
1 T. ground flaxseeds
3/4 C. packed golden brown sugar
1 t. vanilla extract
1 cup gluten free, all-purpose flour
1 teaspoon baking powder
1/2 teaspoon xanthan gum
1/4 teaspoon salt

1/4 C. oil
1/4 C. mashed ripe banana
1 t. ground flaxseed
3/4 C. packed golden brown sugar
2 T. rum
1 t. vanilla extract
1 C. gluten free, all-purpose flour
1 t. baking powder
1 t. pumpkin pie spice
1/2 t. xanthan gum
1/4 t. salt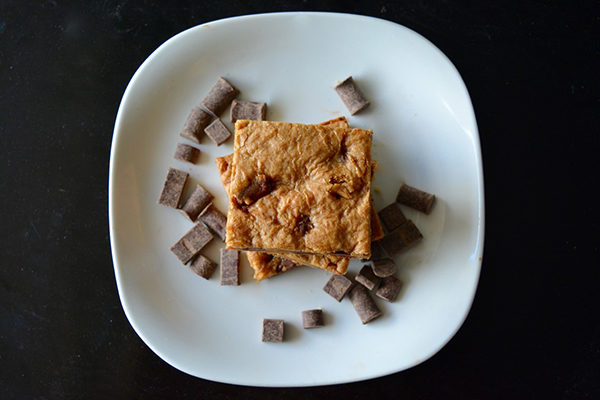 Makes 12 to 16 blondies, depending on size
DIRECTIONS:
Preheat the oven to 350°F. Line an 8-inch square baking pan with parchment paper.
Put the oil, nondairy milk or mashed banana, and flaxseeds in a small saucepan. Heat until just steaming, then whisk in the brown sugar, rum (if using) and vanilla extract until smooth and well combined. Cool slightly.
Put the gluten free, all-purpose flour, baking powder, pumpkin pie spice (if using), xanthan gum, and salt in a large bowl. Whisk to combine.
Add the cooled oil mixture to the flour mixture. Mix to combine. Stir in the Chocolate Mega Chunks.
Scrape the mixture into the prepared pan. Bake for 22 to 25 minutes, until golden brown. Do not overbake.
Let the blondies cool completely in the pan before cutting into squares or cutting with a cookie cutter.
Serve, or store in an airtight container for up to 2 days, moving leftovers to the refrigerator or freezer.
Laurie Sadowski is the author of three cookbooks devoted to gluten-free, vegan, and allergy-friendly baking. Using baking chemistry as a basis, everything is developed—and guaranteed—to taste 'just like the real thing'. For more, visit lauriesadowski.com.