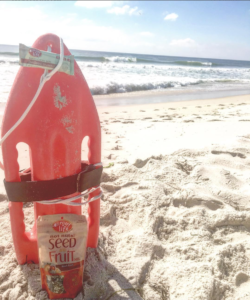 This summer has been filled with fun, food and family vacations! We've loved seeing all of your wonderful vacation photos, and sharing some great allergy-friendly travel tips throughout the summer! Here are a few of the essentials:
Plan ahead – Mapping out your trip ahead of time is a great idea. This way, you can find great gluten-free or allergy-friendly options that are on your way, and plan accordingly! Calling ahead to learn about food allergy policies at your hotel and possible restaurant stops is also a good idea.
Remember your medication – Don't leave home without it!
Pack some allergy-friendly food – This way, you won't have to worry about running out of safe options. Enjoy Life cookies, Grab & Go snacks, and dairy-free chocolate are all great options!
This month, KC Pomering from G-Free Foodie is here to provide even more helpful tips on traveling with food allergies. Check out her video!