Share
Share on Facebook
Share on facebook
Tweet on Twitter
Share on twitter
Pin on Pinterest
Share on pinterest


Translation missing: en.general.social.alt_text.print
Print


Translation missing: en.general.social.alt_text.email
Send email
Adapted from www.keeleymcguire.com
Coming up with fun ideas for field trips can often be tricky when packing for your food allergy or gluten-free children at school.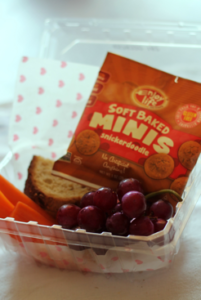 They most often need to be disposable and able to withstand temps that might not be as cold as your typical lunch box & ice pack would provide.
I love saving containers, such as strawberry or blueberry clamshell containers, and even to-go dip containers from restaurants or take-out to reuse during these days. It's a fun way to recycle them and also can give your child the opportunity to personalize them by adding stickers or coloring them with permanent markers. I also find they add a bit of protection to the foods packed over just a plastic sandwich baggy when all the lunches are piled into a cooler or basket for the bus ride.
One item that's great to pack for a kid's field trip is Enjoy Life's new Mini Cookies. They are perfectly portioned and already packed up and ready to go. Available in both Crunchy and Soft Baked varieties, they fit perfectly inside a recycled clamshell for field trip lunches.
Pack the cookies along with a vegetable and fruit, like a whole apple, grapes, and carrots, that don't need to be kept chilled. Sandwiches filled with nut-free spread (like sunflower seed butter) are another great option for field trips since they won't spoil under the conditions.
If you are worried about keeping certain items chilled, freeze a small water bottle to act like an ice pack to include with their lunch. It will be thawed and ready to drink by the time lunch is served.