Share
Share on Facebook
Share on facebook
Tweet on Twitter
Share on twitter
Pin on Pinterest
Share on pinterest
translation missing: en.general.social.alt_text.print
Print
translation missing: en.general.social.alt_text.email
Send email
Can you believe it? It's been an entire month since we launched our newest product, ProBurst Bites™. These chocolaty truffle-like bites have made their way into the functional snack sphere and into your pantries, and we've loved sharing in the delicious excitement with you. Have you tried our ProBurst Bites™ yet? If not, here's a look at what some of our community is saying: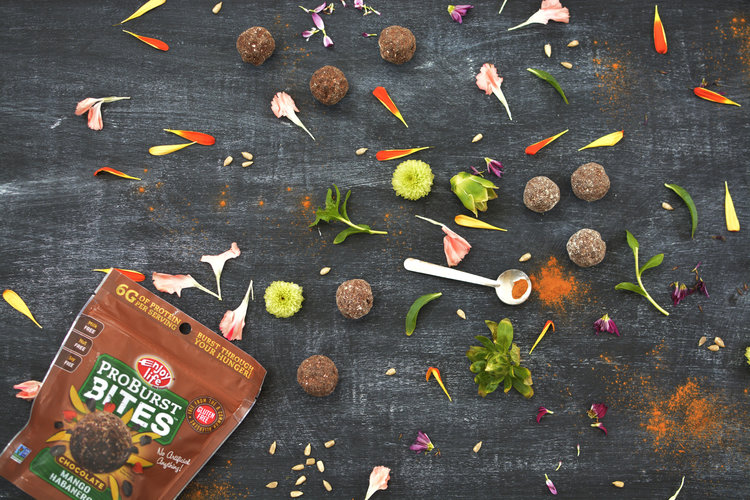 "The ProBurst Bites™ are ideal high-protein snacks, post-workout eats and easy snack bites to get more clean plant-based protein in your diet...they are nutrient-rich, yet taste delicious and indulgent with a creamy, smooth chocolate center."
–Lindsey Lee & Co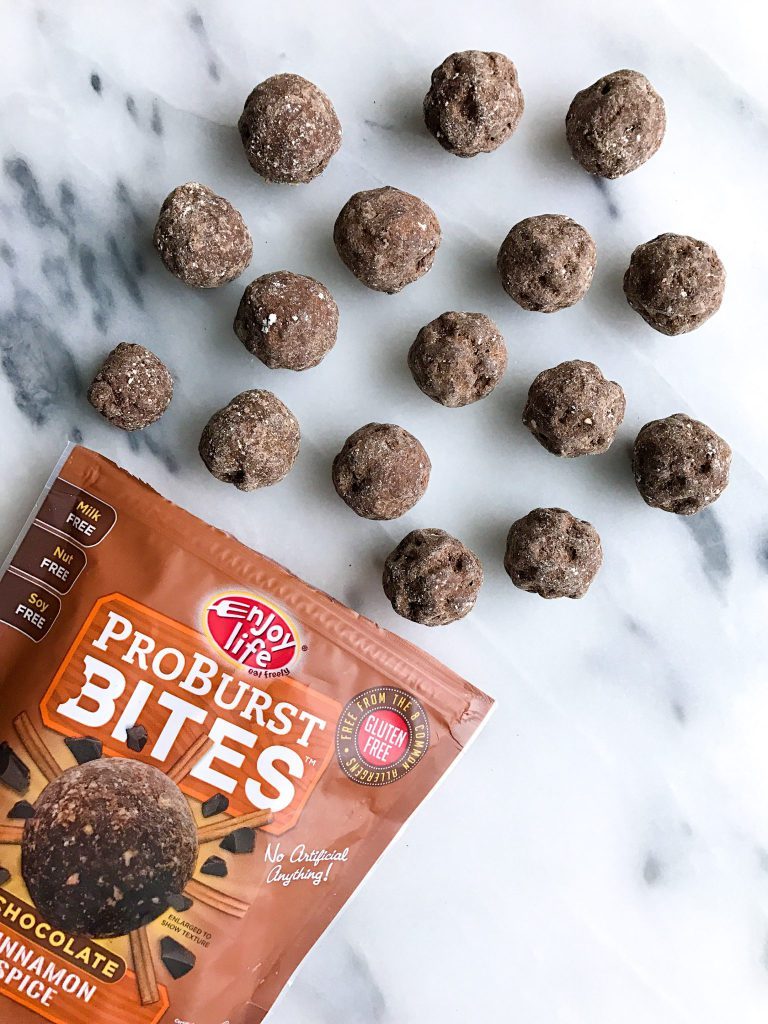 "I pretty much hugged the mailman when he delivered these deliciously indulgent yet nutritious-rich snack to my home. I have been having them after lunch as my sweet treat or midday snack. Jord and I also carried a bag of them to enjoy after our workout this weekend to hold us over until lunch. With all the seeds and spices in each flavor, they are so satisfying and a perfect extra source of protein."
–RachL Mansfield
"I love these because they don't have any artificial ingredients, and they're free of the top eight most common allergens. Even though I don't have any allergies- I have a few friends and family members that do. I always try to be mindful of them when I'm buying snacks!"
–The Clean Eating Couple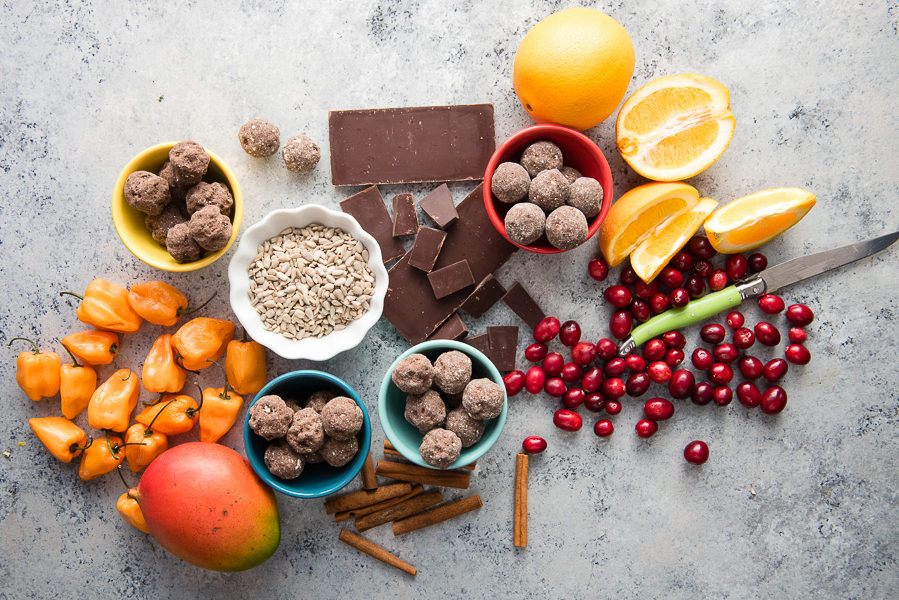 "Like truffles, the ProBurst Bites™ have a dense, creamy center with an exterior chocolatey coating so it feels and tastes like eating a treat...there are no artificial ingredients so the flavors are vibrant and natural."
–Boulder Locavore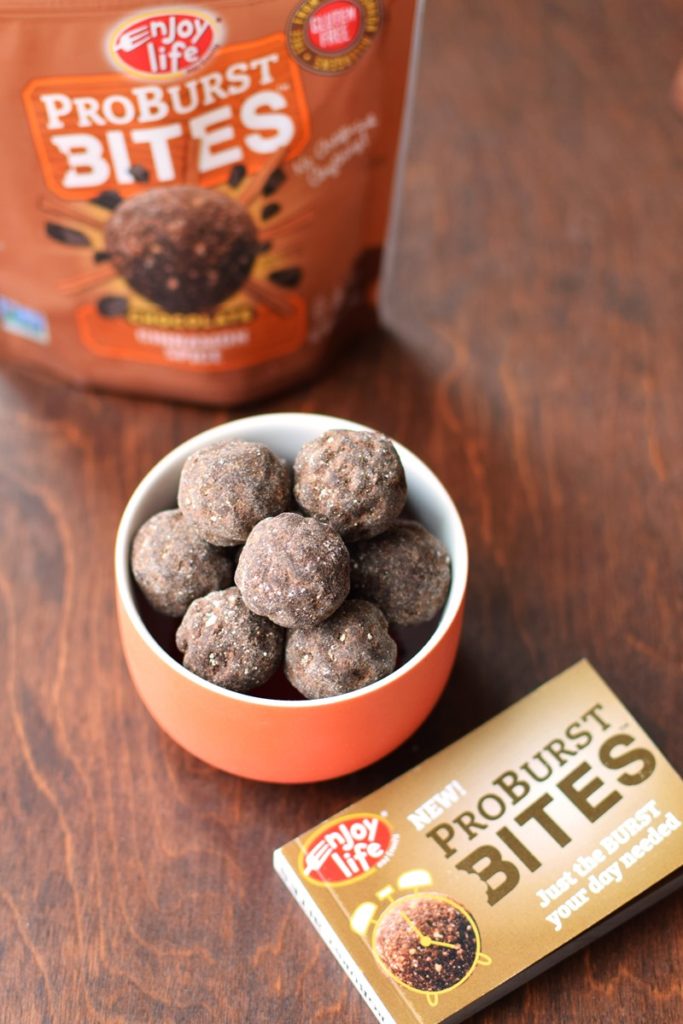 "Despite tasting like a rich and rustic dessert, a very fulfilling serving of 3 ProBurst Bites™ will only cost you 7 to 8 grams of sugar. And that same serving delivers 6 grams of plant-based protein, 3 to 4 grams of fiber, and 25% of your daily iron."
–Go Dairy Free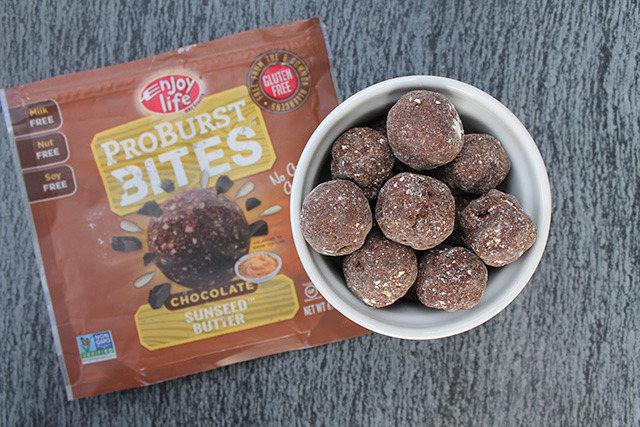 "My personal favorite is the SunSeed Butter, because I love all nut and seed butters, and the Cinnamon Spice is a close second. The bursts are the perfect pre- and post-workout snack, or breakfast if you choose to have 3 or 4!"
–NoBread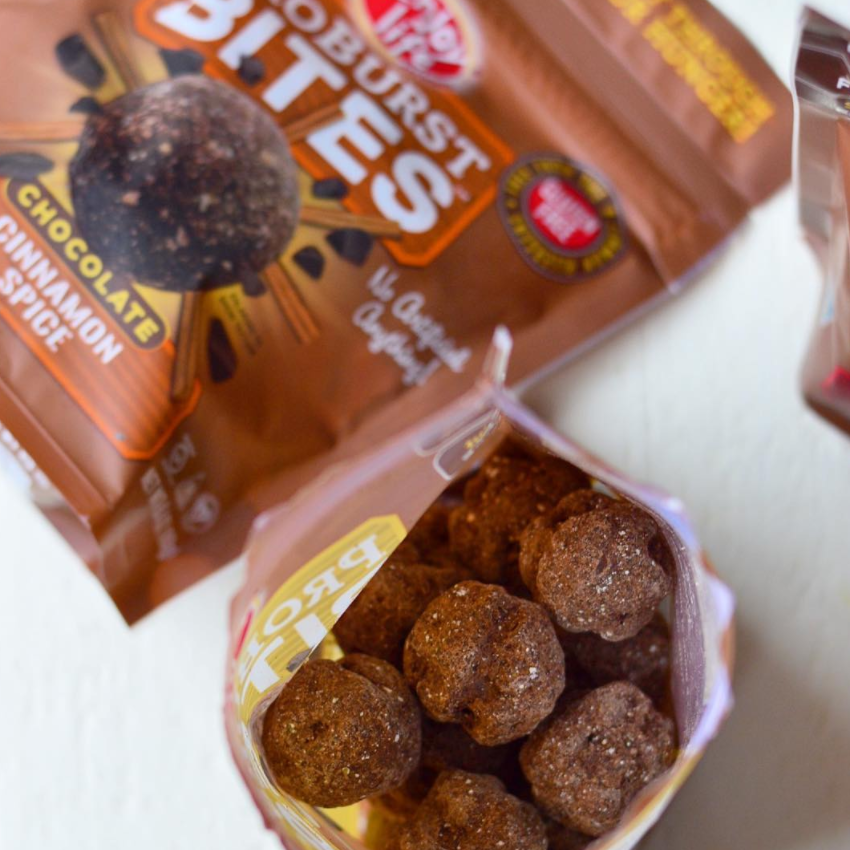 "2017 snack game: strong. Freaking loving these new #ProBurstBites  from @enjoylifefoods and they're a perfect snack to tide me over while road tripping home from NYC today!"
–Real Food with Dana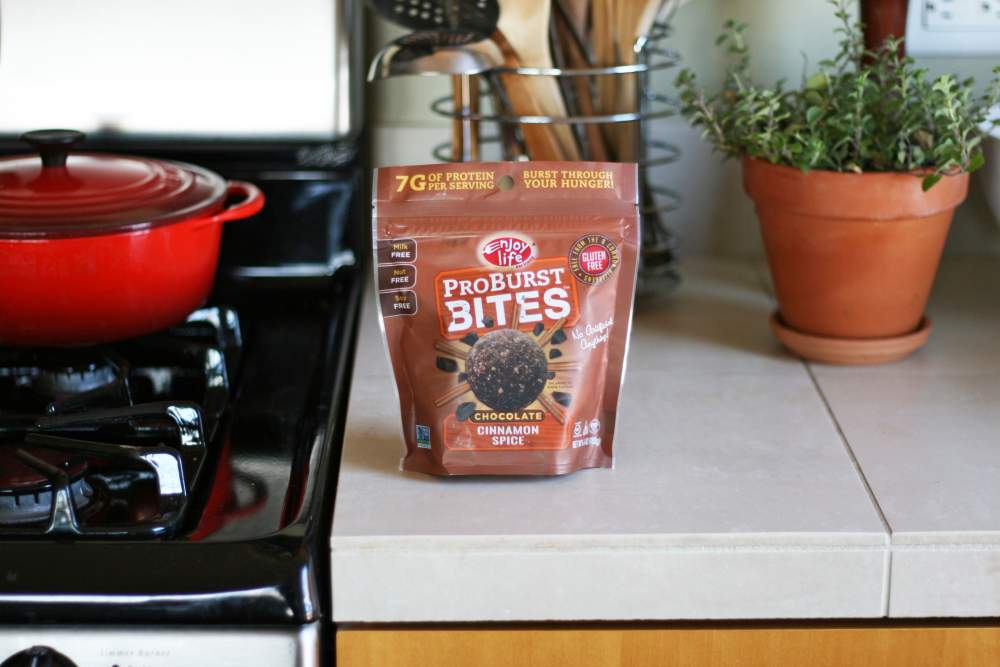 "The other best part about these treats? ProBurst Bites™ are chocolate-based and taste like a sinful chocolate truffle, if a sinful truffle was made of whole foods and bursting with plant protein, fiber, and healthy fats."
–VeguKate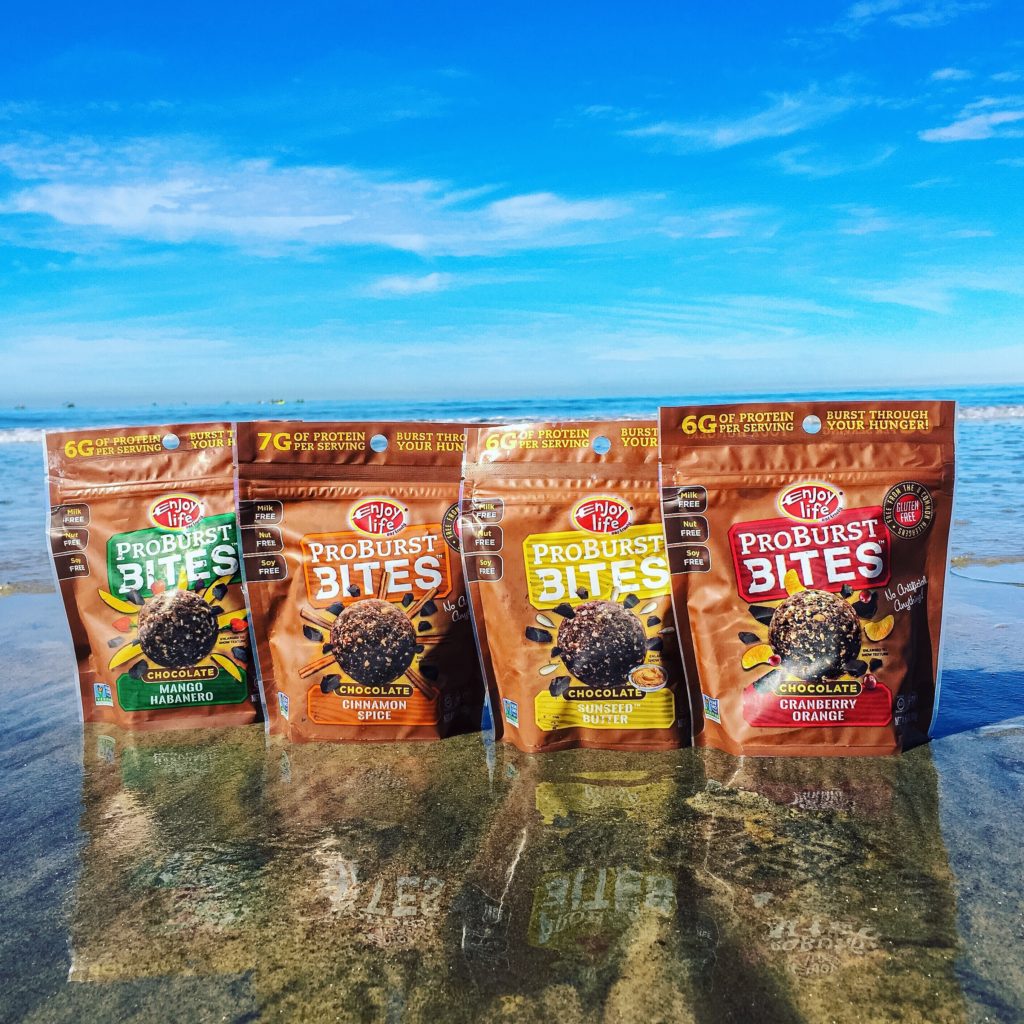 "Have you tried the NEW Enjoy Life Foods ProBurst Bites™? These are the protein snacks of your dreams! They're decadent, chocolaty truffles that are packed with 6-7g plant-based protein per serving, so you can refuel and feel great each time you snack!"
–The Gluten Free Nerd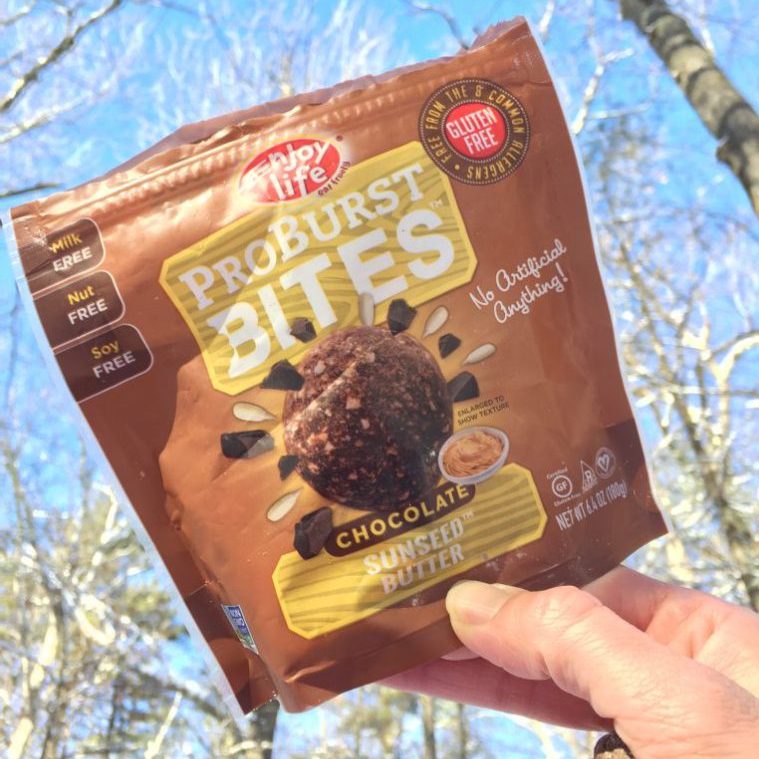 "The ProBurst Bites™ were exactly what I needed to refuel and keep on trekking through the woods.  Washing them down with some ice cold water to rehydrate hit the spot too!  I went snowshoeing again this morning with a few of my friends and again brought along the ProBurst Bites™.  I love that I can pop them in my mouth and keep on walking.  My family will definitely be fighting over these delicious little chocolate balls of protein!"
–EBL Food Allergies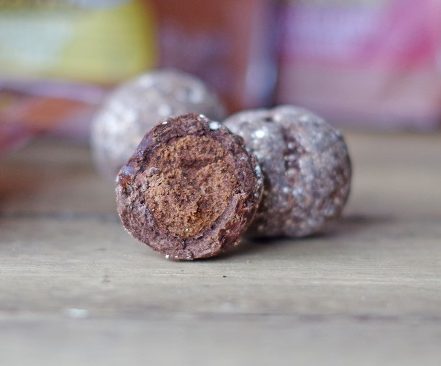 "These amazing, but healthy, treats come in four mouth-watering flavors: Cinnamon Spice, Cranberry, Orange, Mango Habanero, and Sunseed Butter. I've tried each one and can't honestly choose a favorite. Every one is so distinct and enjoyable."
–Gluten Free Palate
"These treats are perfect for the afternoon slump, as they offer the two things that you NEED as a pick-me-up: Protein and Chocolate! They would also work great as breakfast, or an after workout snack.  At 170 calories per serving, these bites are a great addition to a healthy meal plan."
–Vegetarian Mamma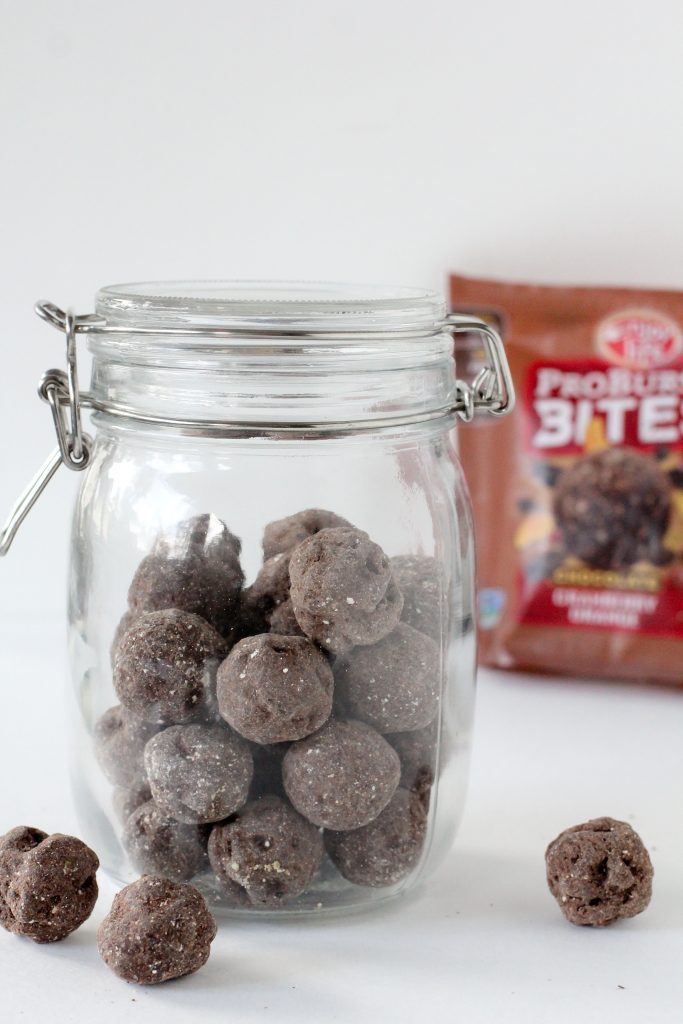 "Do you guys know how refreshing it is to be able to buy a healthy snack already packaged up for the kids that they can actually take to school? That fills them up? It's a busy moms sigh of relief I tell ya."
–The Whole Smiths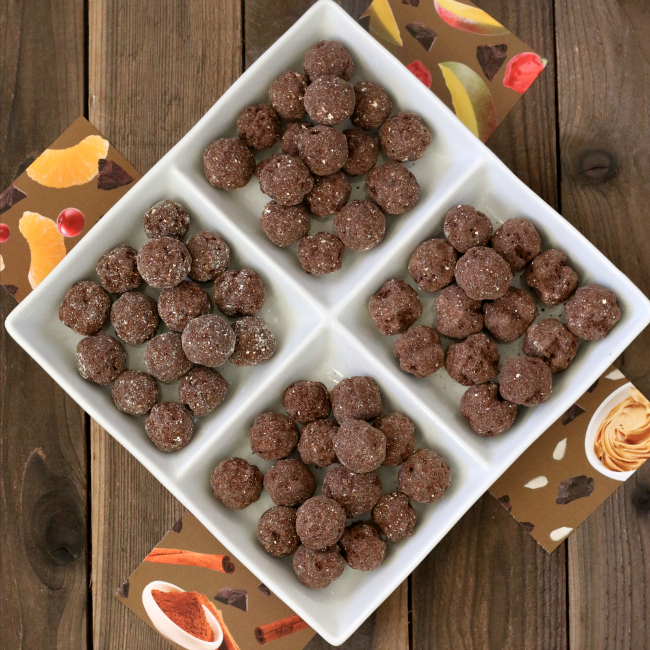 "These are a great choice for snacking on the go or for a midday pick-me-up! Or, if you're like me, you'll set them out for your constantly grazing, growing tweens to snack on while they're home for yet another snow day."
–My Gluten-Free Kitchen
Currently, ProBurst Bites™ are only available online at the Enjoy Life Store and on Vitacost. Stay tuned to our website and Facebook, Twitter and Instagram for expanded distribution announcements.
Continue to follow the excitement online with #ProBurstBites!