Share
Share on Facebook
Share on facebook
Tweet on Twitter
Share on twitter
Pin on Pinterest
Share on pinterest
translation missing: en.general.social.alt_text.print
Print
translation missing: en.general.social.alt_text.email
Send email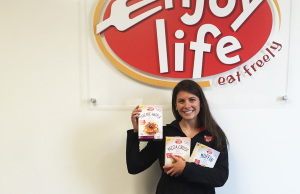 Greetings Enjoy Lifers! My name is Carolyn and I am the Marketing Manager at Enjoy Life Foods. As I write to you, my current view is out the window of Terminal A at Reagan International Airport. I am heading back home to Chicago after a great gluten-free expo this weekend in Washington DC. I had a great time meeting consumers like you and getting to share news about our next product launch...
...our gluten-free, allergy-friendly baking mixes!
If you follow us on social media or keep up with some of our great blogger friends, you may have seen these teased in the past few months. We are so pleased with the final product and can't wait for your feedback!
Get ready to bake off:
As always, the baking mixes follow the Enjoy Life brand promise: they are certified gluten-free, free from the 8 most common food allergens (wheat, dairy, egg, peanut, tree nut, soy, fish and shellfish), verified non-GMO, and certified kosher & halal. As if that wasn't enough, we added 5g of protein per serving and developed the mixes with probiotics to support immune health!
I was able to show the attendees of the Gluten Free Expo in DC the Baking Mixes this weekend and thought I would share some of their questions and my responses:
When is this available?
Today! To honor the launch, we are offering a great special on our online store. Buy a baking mix, get a free bag of baking chocolate on us. This is good for up to 3 bags of baking chocolate! Use code CHOCMIX.
What retailers can I find these at?
Right now, our online store is the only place to find the new Baking Mixes. You should start seeing product on shelves at your favorite retailer come fall. Want to have some fun with us? The first sighting of baking mixes on a store shelf posted on our Facebook page wins a mixed case of Baking Mixes on us!
Wait, all you need to add is Oil & Water? Finally!
Yes! Just add oil and water and any customized ingredients to your baking.
How much are these?
We suggest $8.49 to our retail partners.
Probiotics? How does that work?
Great question. We've developed the Baking Mixes to include a shelf-stable probiotic for immune health! The best part about our probiotic is that it doesn't degrade during the baking process and releases its good-for-you benefits when it hits the gut.
How do you get so much protein into the mix?
Many allergy-friendly products lack protein and we wanted to change this! We don't use traditional sources of protein like soy, peanuts, or eggs, so we like to get creative in our ingredient sourcing. We've found an ancient grain — Teff Flour — sustainably harvested in Ethiopia, and also added algal protein (think seaweed and kelp) along with sprouted brown rice. They all pack a protein punch!
I can't wait to try!
We can't wait for you to try either! Head over to our online store to take advantage of our launch special and be sure to post your baking creations on Pinterest, Instagram, Facebook or Twitter using the hashtag #tothefullest.
We can't wait to see how you Enjoy Life to the Fullest!
-Carolyn