Share
Share on Facebook
Share on facebook
Tweet on Twitter
Share on twitter
Pin on Pinterest
Share on pinterest
translation missing: en.general.social.alt_text.print
Print
translation missing: en.general.social.alt_text.email
Send email
Update Feb 11, 2020:
Our Grain & Seed Bars are going away to make room in our lineup for more great products. If you were looking for our Grain & Seed Bars that means you're looking for an all-natural energy boost that is free of gluten and allergy friendly. Don't miss our new Breakfast Ovals made with 4 types of purity protocol gluten-free oats and free of 14 common food allergens. Or do you prefer plant-based protein? Go for award-winning Protein Bites, in-store at Trader Joe's and available online!
Original Announcement Nov 16, 2017:
We teased the news at Expo East that we had an exciting new line joining our product family. Now, we're excited to announce the official launch of our NEW Grain & Seed Bars! For the first time in company history, we are using certified gluten-free oats in a new vegan snack bar that's packed with plant-based protein, sorghum, and delicious flavor combinations!

We created these bars to give you more from your snack bar! That's why these bars not only taste good, but include ingredients that you can feel good about. From ancient grains, including 3 types (crisped, popped and flour) of sorghum, to real food inclusions like bits of banana and cranberries, 1 oz bars pack 4g of vegan protein and single-serve bars have a whopping 8 grams each!
We've got 4 delicious flavors of our new Grain & Seed Bars in 5-pack boxes: Chocolate Marshmallow, Banana Caramel, Cranberry Orange and Maple Sweet Potato.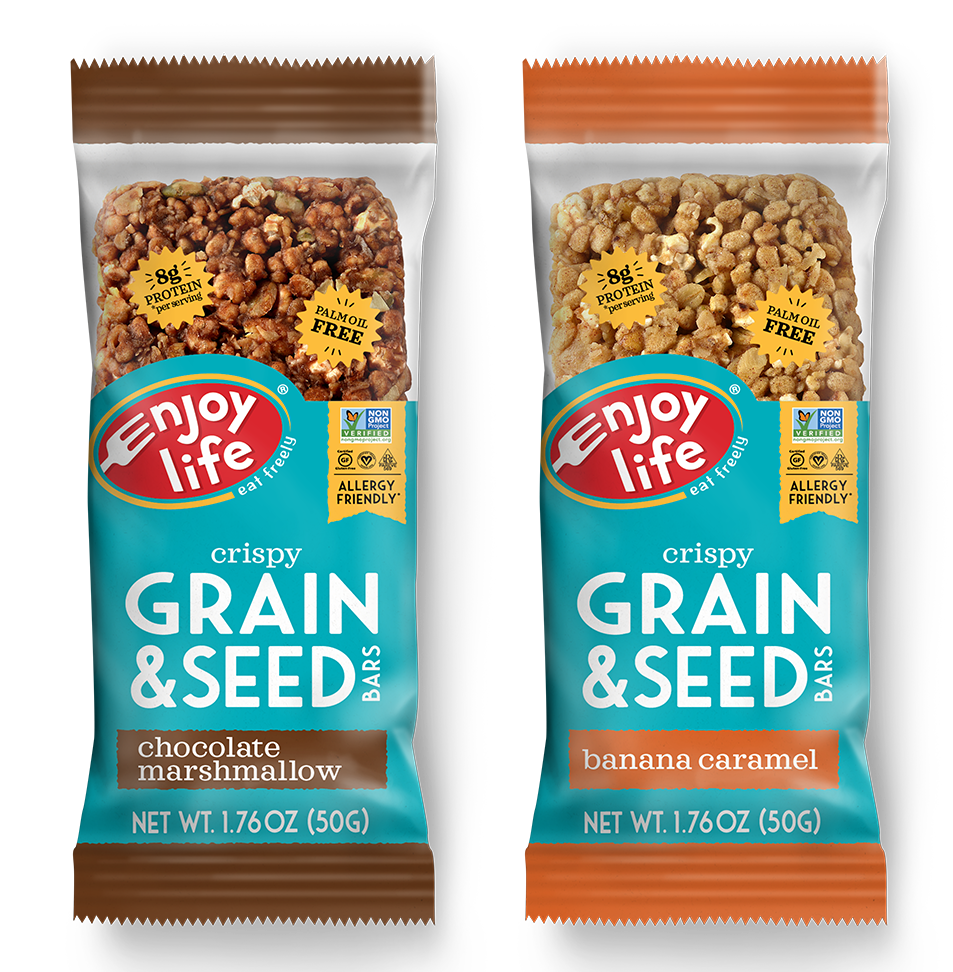 Also, Chocolate Marshmallow and Banana Caramel Grain & Seed Bars are available in larger single-serve bars for when you need a bigger snack break!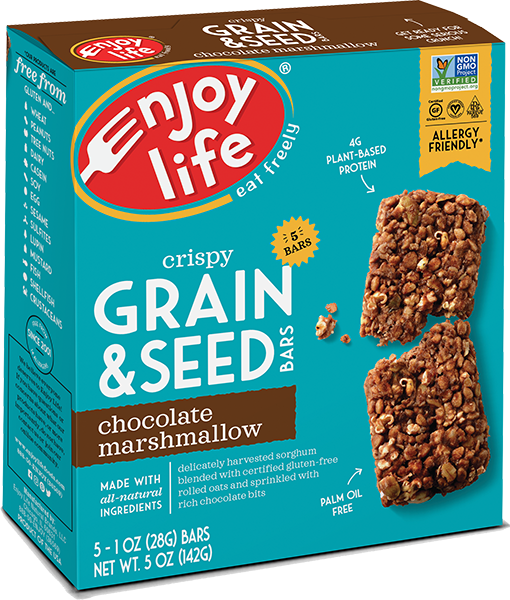 Chocolate Marshmallow
We're pairing gluten-free oats with the decadent campfire flavor combo in our new Chocolate Marshmallow Grain & Seed Bar. Savor the taste of rich chocolate and soy-free marshmallow flavor in 1 oz and 1.76 oz vegan protein bars so you can snack with confidence wherever your day takes you.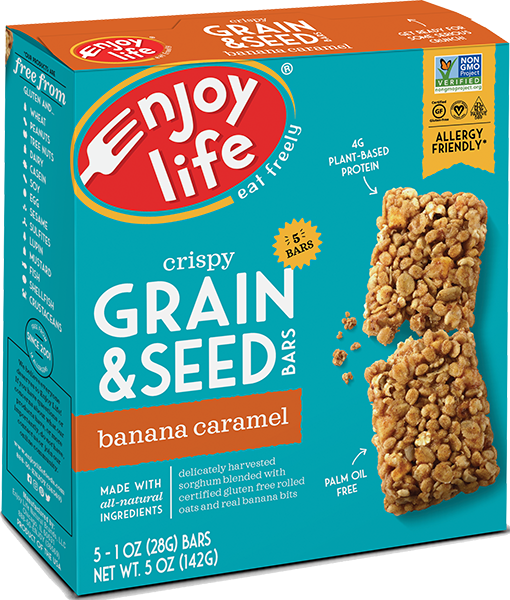 Banana Caramel
Our Banana Caramel Grain & Seed Bars are made with real bits of banana and dairy-free caramel, plant-based protein, and ancient grains for a sweet snack that will satisfy your cravings and your appetite. Available in 1 oz and 1.76 oz bars.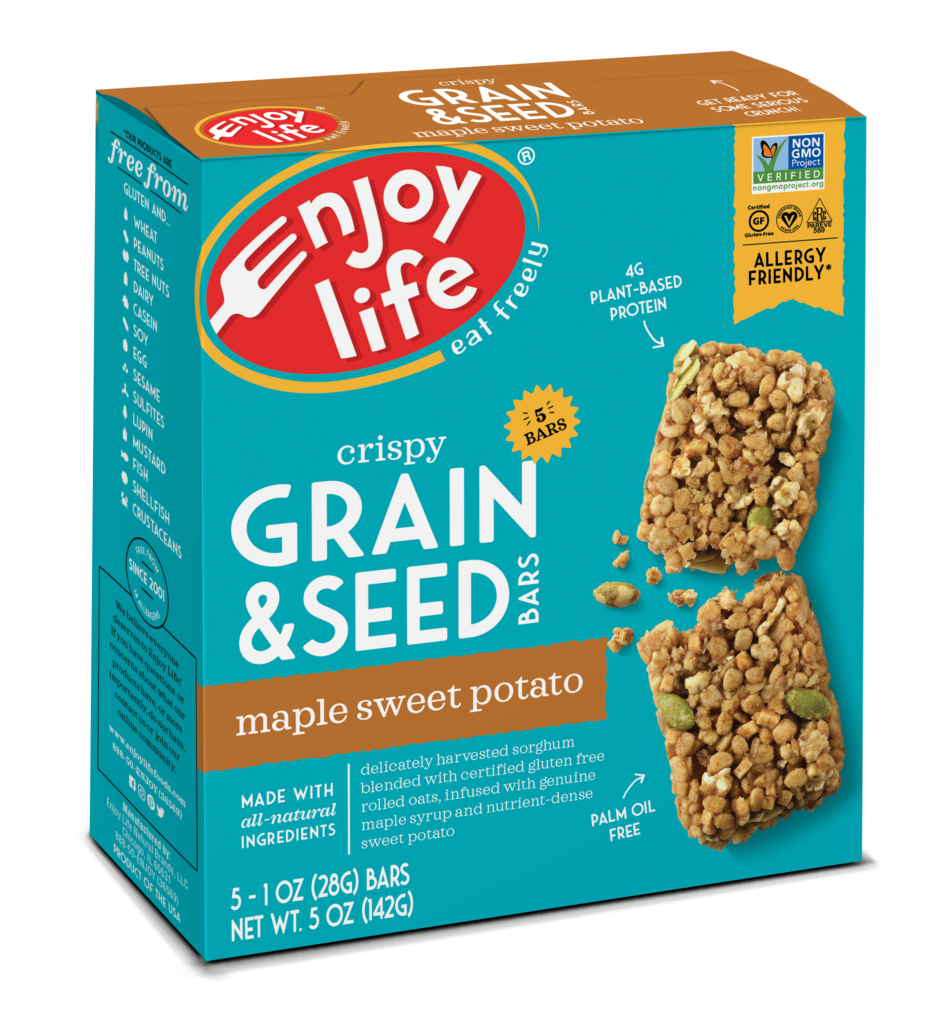 Maple Sweet Potato
The flavors of fall combine with the richness of maple syrup and the delicious taste of sweet potatoes in our Maple Sweet Potato Grain & Seed Bar. This gluten-free protein bar boasts plant-based protein and ancient grains wrapped up in a tasty vegan snack bar.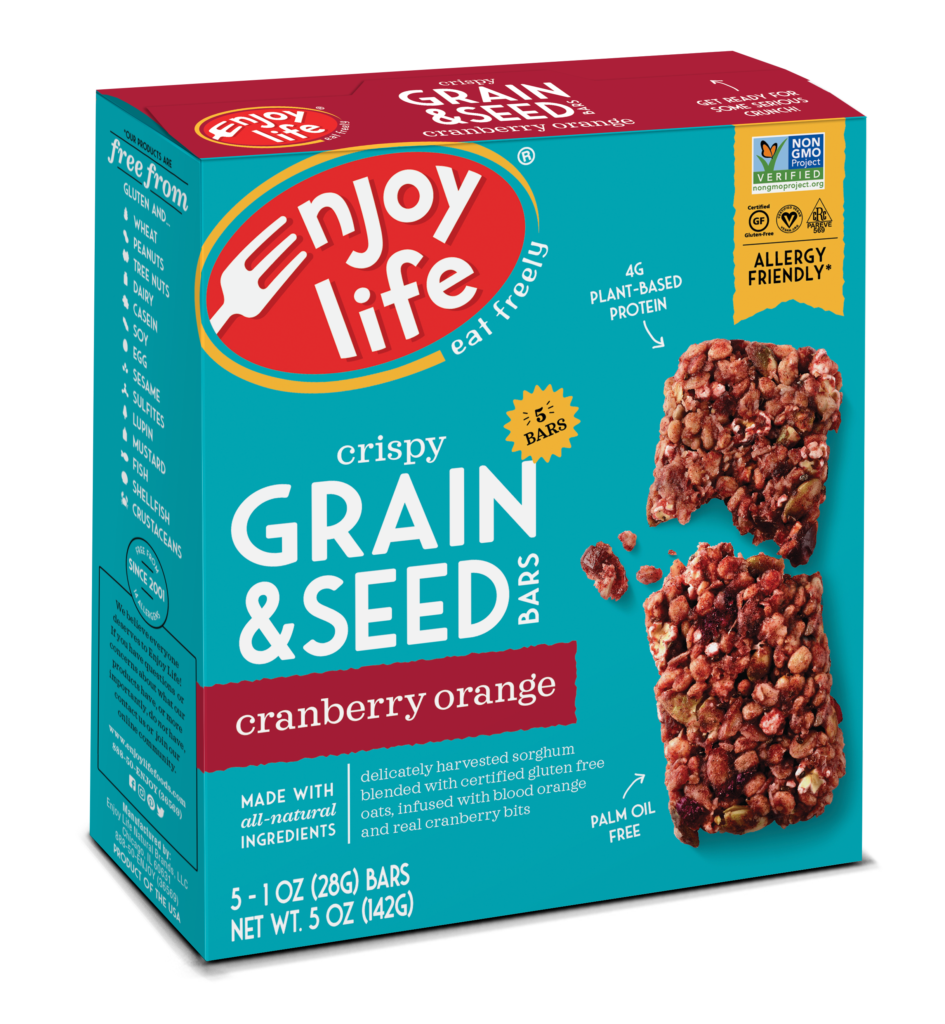 Cranberry Orange
Our new nut-free vegan protein bar is one that we're berry sure you'll love. Enjoy the tangy orange and sweet cranberry flavors that complement each other in our new Cranberry Orange Grain & Seed Bars. They're packed with ancient grains and 4g of vegan protein per serving too!
When will these bars be available?
NOW! You can purchase our new Grain & Seed Bars on our website (with a BOGO sale through 11/23 with code BARBOGO!) and request them at your local retailer.
Where can I find them?
You'll find the 5-bar packs in the gluten-free bar set, and the 1.76oz single serve bars in the nutrition bar set.
How much do these new bars cost?
Each single box contains five 1 oz bars and has an MSRP of $4.69 per box. Each 1.76 oz single serve bar has an MSRP of $2.19.
As always, our new Grain & Seed Bars are certified gluten-free, verified non-GMO and free-from the top 14 common allergens: wheat, dairy, soy, egg, peanut, tree nut, fish, shellfish, sesame, mustard, lupin, crustaceans, sulfites and casein. They are also certified Kosher and Halal, and made with no artificial ingredients. Permission to eat freely!
SaveSave