Mix & Match: Baking Mixes & Chewy Bars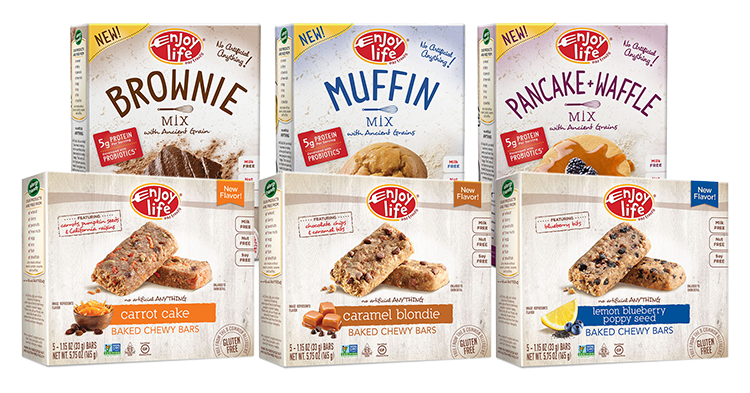 My not-so-secret confession might be that I really love Cocoa Loco Chewy Bars. Something about the texture plus the chocolatey-ness makes stopping at one bar seem like absolute madness. I made this recent excuse to have them for breakfast, too.
Now with the new Enjoy Life Foods Chewy Bars, I've found a second favourite: Caramel Blondie has also won my heart. But just like with the Cocoa Loco Chewy Bars, you don't have to save these new flavors just for snack time. Here's a tip: when you combine Chewy Bars with Baking Mixes, there are plenty of ways you can use them to think outside both boxes. Read on for our favorite combinations!
For the Pancake and Waffle Mix:
Make the Pancakes as directed, stirring 1 cup chopped Lemon Blueberry Poppy Seed Chewy Bars and 1 cup fresh blueberries into the batter before cooking.
Put the ingredients for the Waffle batter in a blender, and add 3 Caramel Blondie Chewy Bars and 1/2 cup Mini Chips. Line a mini muffin pan with liners and bake at 350˚F until a toothpick inserted in the muffin comes out clean.
Core a large apple and stuff with a mixture of crumbled Carrot Cake Chewy Bars, raisins, and sunflower seeds. Drizzle with maple syrup, then bake at 350˚F for about 20 minutes until softened.
For the Brownie Mix:
I'm a little bias here – you definitely need to start with the Caramel Blondie Chewy Bars and work out that Caramel Blondie Brownie Berry Cobbler below!
Next on your list is breakfast inspired—swap half of the Pancake Mix with Brownie Mix and add a bit of chocolate into the first meal of the day with the Lemon Blueberry Poppy Seed Chewy Bars suggestion above.
Using the Carrot Cake Pops as a guide, substitute the cookies for Carrot Cake Chewy Bars, and stir 1/4 cup Brownie Mix into the mixture, as well. Follow the other steps as listed.
For the Muffin Mix:
Make the Muffin Mix in a loaf instead, adding 1 cup grated carrots, 1/2 cup sunflower seeds, 1/2 cup dried cranberries, and 3 coarsely chopped Carrot Cake Chewy Bars. Bake in a 1-pound loaf pan at 350˚F for 40 to 50 minutes (check at 40 minutes, and if a toothpick inserted in the loaf comes out clean, it's baked through). Let cool 10 minutes before removing from the pan, then cool at least 45 minutes before cutting.
Make the muffin batter as directed, stirring in 1 cup chopped Lemon Blueberry Poppy Seed Chewy Bars before dividing into the cups. Do a double dose by sprinkling more crumbled Chewy Bars on the portioned muffins before baking.
Taking our Simple Glazed Funfetti Cookies as a base, omitting the sprinkles and pressing one-third of a Caramel Blondie Chewy Bar into the center of each one before baking.
Now, remember that cobbler I alluded to above? Now's the time. You only need a few Enjoy Life products, cherries, oil, and water, and you'll wonder how you ever did without this recipe in your arsenal.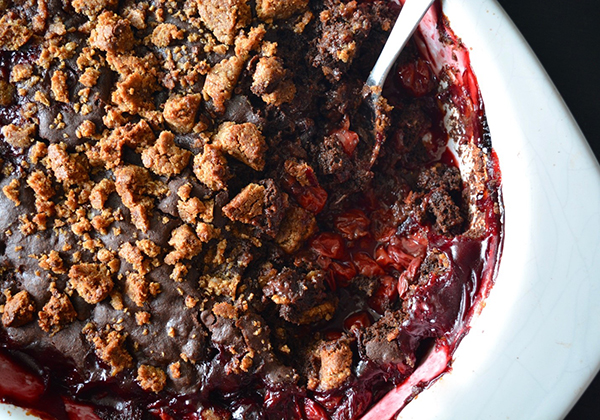 Caramel Blondie Brownie Berry Crumble
Makes about 9 servings
INGREDIENTS:
For the crumble mixture:
3/4 C. cold water
2 T. oil
For the filling:
8 C. pitted cherries
3 T. gluten free, all-purpose flour
To finish:
DIRECTIONS:
Preheat the oven to 375˚ F.
In a large bowl, combine the Brownie Mix, water and oil. Mix well.
If the cherries are very juicy, drain slightly – there should only be about 1/2 cup liquid with the cherries. Put them in a large bowl and add the flour, mixing to combine. Pour the mixture into a 1.5-quart baking dish. Spread the brownie mixture over the cherries to cover. Sprinkle with the crumbled Caramel Blondie Chewy Bars.
Bake for 30 to 40 minutes, until the filling is bubbling and the center of the topping is baked through (you can test by inserting a toothpick into the middle and it come out clean of raw batter.
Cool at least 30 minutes. The filling will become thicker as it cools.
Serve, storing leftovers covered in the refrigerator for up to 4 days.
Laurie Sadowski is the author of three cookbooks devoted to gluten-free, vegan, and allergy-friendly baking. Using baking chemistry as a basis, everything is developed—and guaranteed—to taste 'just like the real thing'. For more, visit lauriesadowski.com.