Happy Mardi Gras from your friends at Enjoy Life Foods!
---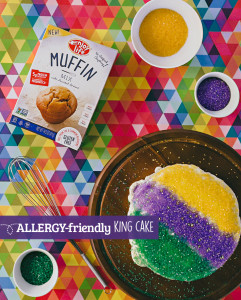 Mardi Gras is a day to celebrate life, dance like no one is watching, and of course, eat freely! Celebrate this special holiday with our allergy-friendly King Cake. Our recipe is packed with probiotics, ancient grains and 5 grams of protein per serving! Party this Mardi Gras the New Orleans way with a gluten-, dairy- and nut-free King Cake made with our tasty Muffin Mix!
Mardi Gras Facts:
– The first Mardi Gras was celebrated in 1837
– Mardi Gras is also referred to as Fat Tuesday, Shrove Tuesday or sometimes Pancake Tuesday
– Traditionally a plastic baby is baked into the King Cake to symbolize prosperity. It is considered good luck to the person who finds it in their piece of cake! (We left the baby out of our recipe!)
– The biggest Mardi Gras celebrations around the world are in New Orleans, Venice and Brazil
Mardi Gras Allergy-Friendly King Cake Recipe
Makes 1 cake INGREDIENTS Cake:
¼ C. allergy-friendly, neutral oil (e.g. canola, grape seed, safflower)
½ C. + 2 T. cold water
Sugar glaze (recipe below)
Purple, green, and gold allergy-friendly sprinkles
Allergy-Friendly Sugar Glaze:
1 1/2 C. powdered sugar, sifted to remove any lumps
3 – 4 t. rice milk or water
2 T. vanilla extract (optional)
DIRECTIONS:
Pre-heat oven to 350°F. Lightly spray or grease a cake pan with edges.
Combine muffin mix with oil and cold water and mix until combined (approx. 10 stirs), without over-mixing batter.
Immediately pour into greased cake pan, filling ⅔ full.
Bake for 10-20 minutes until golden brown and an inserted toothpick comes out clean. Cool for 5 minutes in the cake pan, then move to a wire rack for additional cooling.
Make the Allergy-Friendly Sugar Glaze by placing the sugar in a medium bowl and slowly stir in the rice milk or water and vanilla, a little at a time, until smooth and pourable.
Frost the cake with allergy-friendly sugar glaze and top with purple, green, and gold sprinkles.
Eat freely & enjoy!