Share
Share on Facebook
Share on facebook
Tweet on Twitter
Share on twitter
Pin on Pinterest
Share on pinterest
translation missing: en.general.social.alt_text.print
Print
translation missing: en.general.social.alt_text.email
Send email
Adapted from www.KeeleyMcGuire.com
 Leftovers for lunch are a great way to clean out the fridge and make your mornings simpler. Whether it's packing soups, chilis, chicken nuggets or meatballs, having a thermos is key for utilizing lef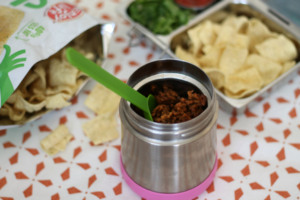 tovers.
Making sure the foods stay warm until lunchtime is easy once you know how to properly heat the core of the thermos.
Add boiling hot water inside the empty thermos container and immediately shut the lid.
While the core is heating, pack and prepare the rest of the meal.
After 3-4 minutes, carefully pour out the hot water, fill with the desired, piping hot foods and shut lid.
It's that simple!
One of our favorites is using leftover "Taco Tuesday" meat from supper for lunch the next day. Pack it up with your favorite toppings on the side like salsa, lettuce, guacamole or cheese, and add Dill & Sour Cream Plentils for a deliciously easy taco salad.