Share
Share on Facebook
Share on facebook
Tweet on Twitter
Share on twitter
Pin on Pinterest
Share on pinterest
translation missing: en.general.social.alt_text.print
Print
translation missing: en.general.social.alt_text.email
Send email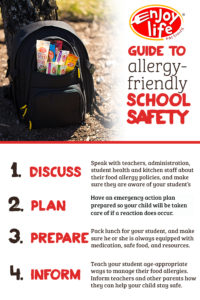 Who's ready for school to start?! Starting a new school year with food allergies can be daunting, but Enjoy Life Foods is here to help make the transition a little easier and more worry-free! We've got a bunch of great Back-to-School resources to help you and your student jump back in and enjoy this new school year to the fullest.
Safety Tips



The most important part of sending a food-allergic kid to school – whether for the first time, or the 12th time – is making sure they, their teachers and their school are equipped with the resources to stay safe. Before the year starts, speak with teachers, administration, student health and kitchen staff about their food allergy policies, and make sure they are aware of your student's needs. Have an emergency action plan prepared so that your child will be taken care of in case of an emergency. When school starts, pack lunch for your student, and make sure he or she is always equipped with  medication, safe food, and resources. In addition, teach your student age-appropriate ways to manage their food allergies. Inform teachers and other parents how they can help your child stay safe.





For an easy way to remember the necessities at school, check out this helpful checklist!

Lunchbox Ideas

Lunchboxes are an important part of any school day, and even more so for students with allergies. Make your little one's lunchbox fillers stand out with our helpful tips, tricks and recipes. Head to our Recipe Page for tons of yummy recipes – both sweet and savory – that will be sure to put a smile on your kid's face at lunchtime. Here are some of our favorites:




Plentils Pizza Crust

: Turn your child's favorite Plentils flavor into a savory pizza crust and top with his or her favorite allergy-friendly toppings!






Chicken Nuggets on a Stick

: Garlic & Parmesan Plentils make a perfect allergy-friendly "breading" for chicken nuggets. Pack this kid-friendly favorite for a lunchbox win.




Applewiches

: This gluten-free twist on a sandwich is a fun, yummy way to switch things up and add some flare to your kid's lunchbox




Chocolate Chip Cookie Waffles

: Breakfast for lunch? Yes please! This recipe is another fun and delicious sandwich alternative for a back-to-school lunch.





Need help figuring out the best way to "build" your student's lunchbox? Check out our Lunchbox Inspiration Guide and make sure you're including all the components: a main dish, a side, a snack, and of course, a treat!

Lunch-Libs

Do you like leaving notes for your kid in his or her lunchbox? Make this sweet tradition even more fun with our Lunch-Libs. Just like the old favorite game, fill in the blanks with your own words to create a customized message for your student. Click here for a downloadable version!
Ready to go? With these tips, you'll be parent-of-the-year for sure. Let us know what you're packing in your child's lunchbox by submitting photos to our Lunch Freely website, and find great ideas from other food allergy parents!
Lunch Freely,
The Enjoy Life Foods Team