Share
Share on Facebook
Share on facebook
Tweet on Twitter
Share on twitter
Pin on Pinterest
Share on pinterest
translation missing: en.general.social.alt_text.print
Print
translation missing: en.general.social.alt_text.email
Send email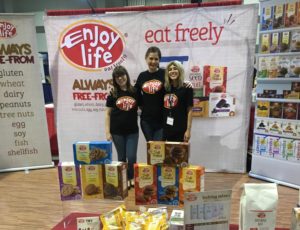 We travel to 150+ events every year throughout the US & Canada!When we're traveling to events, we love to check out the best allergy-friendly spots to eat, stay and play. We want to share these spots with you so you can eat freely and feel comfortable visiting a new city. Check out our very first city guide: Worcester, MA! Now you can navigate Worcester and its surrounding areas like a pro.
This past July, we traveled to Worcester, Massachusetts to attend the Gluten Free & Allergen Friendly Expo. We love attending expos to share samples of our gluten-free and allergy-friendly foods and to meet our amazing fans face-to-face!

Stay tuned for more allergy-friendly city guides created by the Enjoy Life Foods team!
Worcester, Massachusetts City Guide
Enjoy Life team attended the Gluten Free & Allergen Friendly Expo
June 23-24th, 2016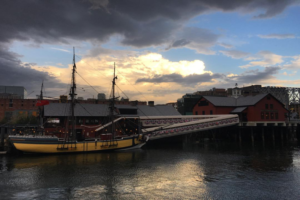 Eat
Flying Rhino Cafe & Watering Hole
278 Shrewsbury Street
Worcester, MA 01604
Phone: (508) 757-1450
A cozy hangout tucked away in downtown Worcester where you can opt to dine inside, outside on the patio, or in the bar area. Flying Rhino's dedicated gluten-free fryer took the stress out of ordering delicious appetizers — our favorites included truffle fries and chili tots! Staff members were well-trained on allergy-friendly eating and answered all of our questions about the gluten-free menu. Looking for a tasty drink? The bar stocked Wende's favorite gluten-free cider!
Favorite menu items: Roasted Chicken & Risotto and Zen Rice Bowl.
520 Atlantic Avenue
Boston, MA 02210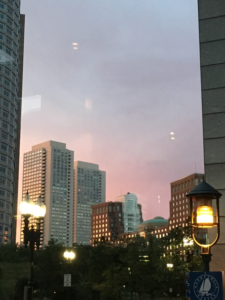 Phone: (617) 723-6326
We highly recommend heading to the city to grab a bite to eat on the Boston Harbor with an amazing view of downtown! It's only 30 minutes from where we stayed in Worcester. We went crazy over Nebo's crispy, gluten-free pizza crust that's made in a separate allergy-friendly facility.
Stay
DoubleTree by Hilton – Westborough
5400 Computer Drive
Westborough, MA 01581
Phone: (508) 366-5511
Upon declining the typical Hilton Walnut Cookie at check-in due to our tree nut allergies, the accommodating hotel staff member brought out certified gluten-free & nut-free chocolate chip cookies for us. Our rooms came equipped with mini refrigerators to store the food we brought (the Framingham Whole Foods Market is nearby!) in case we were unable to find safe nearby options. The communal microwave in the lobby made it easy to warm up leftovers from the restaurants we visited!
Explore
You can't visit the Boston area and not pay a visit to the Boston Harbor. We snapped this photo after eating at Nebo: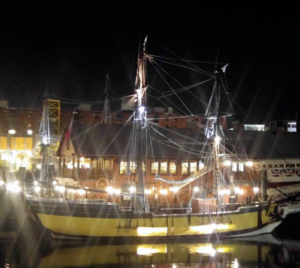 All in all, we had an AMAZING time in the Boston area! We hope to be back for another gluten-free and allergy-friendly expo to meet more of our amazing fans.
Are you from the Boston area and have more allergy-friendly restaurant recommendations? Let us know and we'll add to our guide! Email info@enjoylifefoods.com.