Share
Share on Facebook
Share on facebook
Tweet on Twitter
Share on twitter
Pin on Pinterest
Share on pinterest


Translation missing: en.general.social.alt_text.print
Print


Translation missing: en.general.social.alt_text.email
Send email
Adapted from www.KeeleyMcGuire.com
Garlic & Parmesan Plentils make a yummy coating for chicken, which bakes up beautifully. Add a Popsicle stick for lunchtime fun!
 Ingredients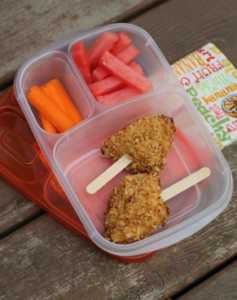 1 package of boneless, skinless chicken breasts (approximately 1.25 lbs containing 3 breasts)
1.5 cups of crushed Garlic & Parmesan Plentils
¼ cup of Honey Mustard Vinaigrette dressing
(Optional: Popsicle Sticks)
Directions
Preheat oven to 425 degrees. Line a baking sheet with parchment paper.
Slice chicken breasts horizontally in the middle, thus making your three chicken breasts into six pieces. Pat chicken dry.
Place crushed Plentils into a medium to large size bowl. Pour Honey Mustard Vinaigrette into a small bowl.
Dip chicken first into the Vinaigrette coating both sides, then roll into the crushed Plentils. Use your hands to help "pat" the crushed chips onto the chicken.
Repeat until all are coated and placed on the baking sheet.
Bake in the oven, without turning, for 25-30 minutes.
Remove from oven and let cool. Add Popsicle stick for serving.