Allergy-Friendly Friendsgiving: The Tips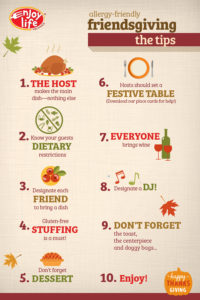 Friendsgiving: A Thanksgiving celebration, except with your closest friends! Friendsgiving is one of my favorite holidays – who doesn't like getting together with friends to celebrate over delicious allergy-friendly food, board games and a glass of wine or two?
To make your Friendsgiving one for the books, we've complied a list of 10 tips:
The host makes the main dish – nothing else
Break out that turkey!
Know your guests' dietary restrictions
Inquire about everyone's dietary restrictions well ahead of time to ensure dishes are prepared accordingly and cross-contamination is avoided. This way, everyone can eat freely!
Designate each friend to bring a dish
This is the fun part! Each friend must contribute to the table with an allergy-friendly dish. My friends and I compile a list of what each person is bringing in a shareable document so there are no duplicates. Need help deciding what to bring? Please the entire crowd with this allergy-friendly Mac and Cheese or Butternut Squash Pizza.
Gluten-free stuffing is a must
What's Friendsgiving without gluten-free stuffing?
Don't forget dessert
Perhaps the most important – and delicious – part of the holiday. Enjoy Life's Baking Mixes make holiday baking so easy, delicious and nutritious! Friends will thank you for the shelf-stable probiotics and 5 grams of plant-based protein per serving in our Brownie Mix, Muffin Mix and more. Get creative with our Baking Mixes: check out Enjoy Life's top 8 free desserts recipes!
Hosts should set a festive table
In addition to festive decorations, download these place cards to mark which allergens each dish is free-from! This place cards will make it easy for guests to identify which dishes they are able to eat.
Everyone brings wine
This is a given ;-)
Designate a DJ
Pump up the tunes!
Don't forget the toast, centerpiece and doggy bags
Enjoy!
Friends and good food – what else could you need?
Eat freely this Friendsgiving,
Lindsay