Share
Share on Facebook
Share on facebook
Tweet on Twitter
Share on twitter
Pin on Pinterest
Share on pinterest


Translation missing: en.general.social.alt_text.print
Print


Translation missing: en.general.social.alt_text.email
Send email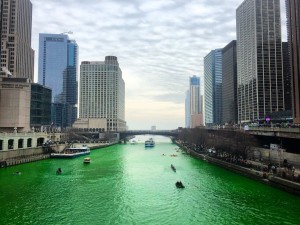 For those of you who live in the Chicago area, chances are you celebrated St. Patrick's Day this past Saturday and watched the annual dying of the Chicago River. I moved to Chicago from Upstate New York just three months ago. I never celebrated St. Patrick's day while living out east, and I owe all of this year's holiday spirit to my new city. Despite the dreary weather, thousands of people gathered as the river was dyed green. The city came alive and you could feel the excitement around you.
The meaning of St. Patrick's Day has changed so much over the years. Anyone remember a two-foot tall leprechaun guarding a pot of gold at the end of a rainbow? While we may have been looking for that shiny pot of gold, here's something much grander: Leprechaun Mint Ice Cream Parfaits. One half sweet, the other half magical, this allergy-friendly parfait is made with  Double Chocolate Brownie Soft Baked Cookies, peppermint extract and your favorite dairy-free ice cream. Bonus: create your own allergy-friendly sprinkles by using kale as dye! I wonder if they use kale to dye the Chicago River.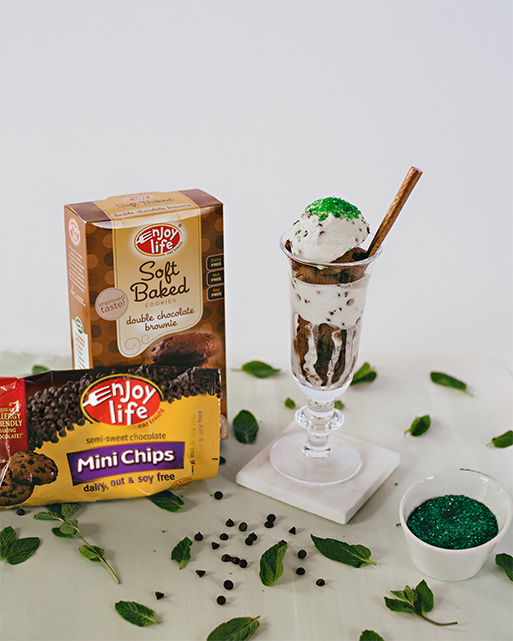 Some fun facts about St. Patrick's Day:
The very first St. Patrick's Day parade was not in Ireland. It was in Boston in 1737.
"Erin go Bragh" translates to "Ireland forever."
According to legend, leprechauns spend their days making and mending shoes.
The true meaning of St. Patrick's Day is getting together with friends and family eating delicious allergy-friendly food. I hope you enjoy this recipe as much as I did this past Saturday by the green Chicago river!
Eat freely,
Lindsay
Yield: Depends upon the size of the parfait glass
INGREDIENTS:
EQUIPMENT:
DIRECTIONS:
Soften ice cream and stir in peppermint extract. Stir in chocolate chips. Place in freezer to firm until firm enough to scoop.
Place 1-2 broken cookies (4-8 pieces) in the bottom of a parfait glass.
Place ice cream on the cookies.
Continue to layer with cookies and ice cream until the parfait glass is filled.
Top with green sugar sprinkles and more chocolate chips.
Refreeze until firm.