Share
Share on Facebook
Share on facebook
Tweet on Twitter
Share on twitter
Pin on Pinterest
Share on pinterest
translation missing: en.general.social.alt_text.print
Print
translation missing: en.general.social.alt_text.email
Send email
Adapted from www.KeeleyMcGuire.com
Once a month, our friend Keeley McGuire features Enjoy Life products in a "challenge" to find creative ways to use them in new and inventive recipes that are great for lunches and snacks.
Here are four creative ways to use Baked Chewy Bars in your lunchbox:
Top your favorite non-dairy yogurt with fresh fruit. Then take an Enjoy Life Foods Mixed Berry Baked Chewy Bar and crumble it into small pieces. The bars are so soft and will add a delicious granola/cookie like texture to your yogurt!
Pack it up for lunch in your favorite container with a good ice pack for your kiddos or for yourself! It's the perfect compliment to your meal.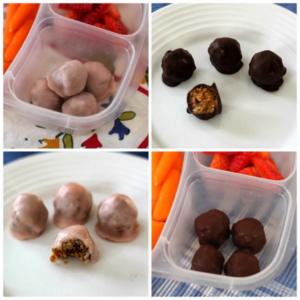 Roll them into bite-sized dessert balls. Break the bar into four equal parts and roll into a ball gently with your hands. You can serve them as is for a bite-sized treat, or follow one of these yummy ideas to kick them up a notch!
For the Mixed Berry Bar, dip it in non-dairy strawberry yogurt and place each ball on parchment paper.
For the SunSeed Crunch Chewy Bar, dip each ball into 3 tablespoons of melted Enjoy Life Foods Mini Chips (with a splash of oil of your choice) and place each on parchment paper.
Then put them into the freezer to harden. Ta-Da! Yummy Baked & Dipped Bar Balls. The chocolate dipped balls will hold up, thanks to the added oil, for the lunchbox. The yogurt ones will soften, those are best served as an at home lunch or snack, straight from the freezer.
Applewiches are also a great go-to school lunch, using apple slices as a bread substitute. You can fill them with sunflower seed spread and raisins, Mini Chips, or Seed & Fruit Mix.
Turn to Enjoy Life's Cocoa Loco Bars for a chocolate fix or a lunchbox dessert. Cut up a bar into four equal parts and gently flatten each piece with your hands. Cutting a banana on the bias, place one slice in the middle and sandwich them together. Press down on each piece slightly – don't worry, the moisture from the banana will hold them together – making these bite size banana bits perfect for snacks or as a dessert at lunchtime.